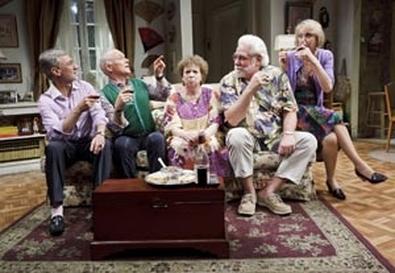 Veteran actors Dan Butler, David Garrison, Julie Halston, Marcia Jean Kurtz, and Richard Masur say it's rare to find themselves in a play exploring the lives of mature people grappling with the sometimes thorny, occasionally comic issues of aging. They feel lucky to be in Charles Busch's "Olive and the Bitter Herbs," a comedy set in New York City that details the evolving relationships among embittered Jewish actor Olive (Kurtz), her slightly demented caregiving friend Wendy (Halston), two bickering gay neighbors (Butler and Garrison), and the twice widowed Sylvan (Richard Masur). Throw into the brew a ghost and a "six degrees of separation" theme. Busch is perhaps best known for his play "The Tale of the Allergist's Wife," which was nominated for a 2001 Tony Award for best play. "Olive and the Bitter Herbs" is a Primary Stages production running Off-Broadway.
Seated on its set—a cozy living room in a prewar, rent-controlled apartment in Manhattan's Kips Bay neighborhood—the actors, who boast extensive theater, TV, and film credits, assert that they are having the time of their lives.

Back Stage: Julie, since you've worked on many Charles Busch projects, what are the acting challenges in his work in general and this piece in particular?Julie Halston:
Charles' rhythms are fast. He writes long sentences and likes alliteration. You need big breaths. Wendy is challenging because she's too close to me.
Marcia Jean Kurtz:
Yes, the challenges are his rhythms and entering his very specific imaginative and verbal world.
David Garrison:
My role is challenging because I'm the plumber in the play. I lay all the pipes. There's a lot of exposition that needs to be revealed. My character is the least demonstrative. He's a sort of calming, Tony Randall presence in the midst of a lot of other energy. It's been an interesting lesson in, hopefully, staying alive and vibrant within a character who is much calmer than everyone else.
Back Stage: Marcia Jean, let me ask you a devil's advocate question. Some might feel that your character appeals to—perhaps, confirms—anti-Semitic views. Is this something you were concerned with?Kurtz:
No. Charles, who is Jewish, wrote a loving Jewish character. He reaches out to Jews and affirms their pain. I love my line that says, "I finally got the chance to show on film that I'm not just an ethnic stereotype." Jewish actors, especially women, have a real problem with the idea that you can only act one way. You don't usually get roles that have a wide range of expression.
Back Stage: What takes precedence for you, the role you're going to play or the script as a whole?Dan Butler:
Sometimes I want to be in a project because I believe in it so strongly. Even if I found the character fantastic, if the rest of the project was reprehensible, I don't think I'd do it.
Garrison:
For me, the literature trumps everything else. If it's a minor part in a remarkable piece of work, of course I'll do it. And if it's a major part in what I consider to be pollution—and generally there is a relationship between how much money you'll make and the level of pollution—I won't do it. There are times when my checkbook wakes me up in the middle of the night and says, 'You're an idiot.' In the long run, you have to be responsible for what you put out in the world. I also feel there are more great roles than there are great actors, and very often actors receive an award for a role, more than what they brought to it. For me it's about the word, what's on the page.

Richard Masur:
Text and project are paramount, but I will say I have thrown everything over at times to work with certain people. I was once offered a television movie with Katharine Hepburn, and I turned it down because I didn't like my role. And that was the last movie for television she made. So when I was offered a similar situation with Jessica Tandy, I took it. And when I was offered a TV movie starring Ben Johnson and Richard Farnsworth, I said yes, even though I hated my role.
Back Stage: As you've matured, have you found that you've had fewer or more acting opportunities?Halston:
The fact that I'm a character lady and a funny character lady has helped me. I wasn't an ingénue when I was 20. But whenever I feel frustrated, I write myself a new comedy and perform it at Birdland, where I get my ego stroked.
Kurtz:
I get more roles as I get older, including film and television. Also, I belong to Ensemble Studio Theatre, where I work as an actress and a director. So I always have something going even if it's not commercial.
Masur:
My hair is dyed white. But when this gets to be real, I think things might perk up a bit. But now work is as flat as a pancake, especially in television and film. There are a huge number of people who can do the work and a shrinking number of roles.
Garrison:
As a character actor, I thought I'd work more the older I got. As it turned out, that was not the case. I think I'm in that funny i­n-between period. Men in their 50s go through a funny little dry patch because you're now too old to play dad and not old enough to play grandpa. You can play lawyers, doctors, and other professionals, but it's a bit of a dip—at least I'm finding that to be so. It's especially true in TV, which is why I've done three not-for-profit Off-Broadway shows in a row. That's where the work is.
Butler:
In my 30s, I said I'm too young to be bitter, sitting around waiting for opportunities to come to me. That's when I started writing, and now I've gotten into directing a bit. So I create my own things. I just adapted a poem into a short film. I don't think about age.
---
---
Back Stage: If you could redo your career, what would you do differently and what would you advise young actors?Butler:
I wouldn't do anything differently. As for advice, I'm going to steal something from Richard Jenkins, an actor I idolize. He told college students, "You got everything you need. You're enough. What you're cutting down or downgrading is probably your gold."
Garrison:
Dan and I are complete opposites. He's the optimist. Not only is my glass half empty; it's not the drink I ordered. What do I advise kids? "Dentistry. Dentistry is good." What would I do differently? I'd enjoy all the good things while they're happening.

Halston:
I wouldn't change much. I wish I had gone to the gym more. My advice is to go to the gym, know thyself, and marry well.

Kurtz:
I'm happy with what I've accomplished. Find your life in the theater. Find a group to work with. Don't have a narrow image of yourself, and be open to everything.

Masur:
I have 100 percent no regrets. I have not left a big stink behind me, which I highly recommend. The only other thing I'll say, there is no "way" to do this. There's only your way. Be a dentist. That's absolutely right. If there's anything else you can do, then do it. Unless you're a little bit crazy, you're not going to last. You have to have a lunatic fixation, which allows you to put up with the greatest rejection in any chosen profession on the planet.

"Olive and the Bitter Herbs" is playing through Sept. 3 at Primary Stages, 59 E. 59th St., NYC. Tickets: (212) 279-4200 or www.primarystages.org.
Outtakes
- Halston is a founding member of Charles Busch's theater company, Theatre-in-Limbo, and earned Drama Desk Award nominations for her work in his plays "The Divine Sister" and "Red Scare on Sunset"
- Masur served as president of the Screen Actors Guild from 1995 to 1999
- Butler played macho sporvtscaster Bob "Bulldog" Briscoe, a series regular, on "Frasier"
- Garrison played Steve Rhoades, Al Bundy's greedy and henpecked neighbor, on "Married…With Children"
- Kurtz earned an Obie Award for her performance in "The Loman Family Picnic" and Obie and Drama Desk nominations for "When She Danced"