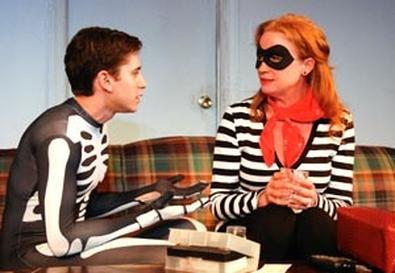 To label "Oliver Parker!" a black comedy about child molestation (with an atrocious title) would be an unfair assessment, one that wouldn't be helped much by adding that it's also a very funny one. Yet playwright Elizabeth Meriwether (best known for her "Heddatron") has crafted a swift, lacerating comedy about grief, coping, and, yes, child molestation.
Set entirely in the truly disgusting hovel that binge-drinking Jasper (John Larroquette, turning his trademark sarcasm on its head in frightening ways) calls home, "Oliver Parker!" follows the friendship between Jasper and the troubled, wealthy 17-year-old title character (Michael Zegen), who pays for Jasper's rent and food for reasons at first unknown. Jasper wants to drink himself to death but not before helping Oliver come to terms with his troubled past. But Oliver just wants to get laid, and to that end he starts plying United States Senator Willa Cross (Johanna Day), who has recently lost her daughter, with pills and booze.
In the world Meriwether and director Evan Cabnet (who showed an affinity for similar material last year with Stagefarm's "The Gingerbread House") have created, laughter and shudders exist side by side, often in the same moment. When Oliver sets out to seduce Willa, the effect is both comic—Oliver is simultaneously overconfident and uncertain—and painful. Both are looking for a way to forget their pasts, but neither will find it with the other. Everyone who enters Jasper's apartment brings with them their own set of issues, including Willa's assistant Agnes (a very funny Monica Raymund), who, like everyone else, is appalled by yet attracted to the charismatic Oliver.
The deadpan Zegen is a marvelous presence onstage, hiding Oliver's rage beneath a veneer of cockiness and smooth talking. But he meets his match in Day, who turns a scene in which Willa pops pills with the abandon of a "Valley of the Dolls" character into a tour de force of pain and desperation as she searches for a way back to her life before the death of her daughter. A play about dead children and childhood diddling (as Oliver prefers to refer to his experience) shouldn't be so funny, but it's a testament to Meriwether's immense talent that she manages to make it so without offending the audience.
Presented by the Stagefarm at the Cherry Lane Theatre, 38 Commerce St., NYC. May 17–June 6. Tue.–Sat., 8 p.m.; Sun., 5 p.m. (212) 239-6200, (800) 432-7250, or www.telecharge.com. (No performance Tue., May 18.) Casting by Calleri Casting.