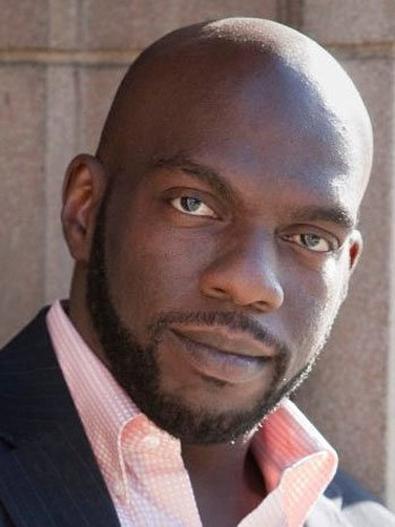 "It's a sad day," says Omar Dorsey about the series finale of "Eastbound & Down" on Nov. 17. The actor, who joined the cast in its final season as Dontel Benjamin, was a fan of the show long before he was cast. Dorsey even met his co-star Danny McBride while shooting "Django Unchained" in New Orleans just before "Eastbound & Down" was picked up for the fourth season. When he learned it was coming back, Dorsey says, "I was trying to move heaven and earth to see if I could get on the show this season."
While his run on "Eastbound & Down" may be coming to an end, the actor is already busy with his next project, playing Roy on the new FOX drama "Rake" starring Greg Kinnear. The grounded actor talks about the fun he had on "Eastbound & Down" and his excitement about "Rake," as well as some acting insights he's picked up along the way.
Work hard.
Everything gets easier if you work at it. "I used to not work that hard at auditioning and I was just like, 'Well, I'll figure it out,' but lately I've been making it my mission to work as hard as I can," says Dorsey, who wishes he had the dedication and preparedness that he has now when he started acting. "But it all comes with wisdom," he says. With his new method of audition prep, Dorsey has started to enjoy auditioning. "I used to dread it," he says.
Make bold choices.
Dorsey has found himself auditioning for many roles that could be one-note, and he cites "Eastbound & Down" as an example. "But if I can bring some kind of different nuisance to it, then I know it will stand out against other people auditioning for it," he says. So when he auditioned for Dontel, Dorsey just tried to do something outrageous with it. "And once you do something outrageous you just stand out a little bit," he adds.
Prepare for the audition.
"I try my best when I'm creating that character—when I'm going to audition—to try to get that character down at that moment," Dorsey says. Most of his role preparation happens during his audition preparation, especially for a television show. "In the audition, I try my best to get what I call my bible," he says. "All the things that this guy is—everything that he—all his likes and what he doesn't like. Of course during the life of a show and with the writers, they're going to add more stuff to it."
Bring something different.
Dorsey always tries to bring something different to every character, and he tries not to play the same character twice. "Dontel Benjamin on 'Eastbound' is a loud-mouth, braggadocios, crazy man, while Roy on 'Rake' is a very deliberate, thoughtful man, and he doesn't scream a lot," says Dorsey. Bringing something new to a character is important to Dorsey, who has faced the challenge of being typecast. "Because I'm a big guy, I was always playing the bad guy or whatever, but after I did 'The Blind Side' where I played a father who's a really loving, likeable sort of person, a lot of those barriers were broken down. People saw me as something softer, not so much as a heavy anymore." Having trained in the theater, Dorsey was used to playing everything. "It takes a while for audiences on film to see you as something different if they've seen you for so long as a specific character," he says. "It's up to the actor to be like, 'Look man, let's try something else,' even if it's an ultra-low-budget independent. People who rep you will keep going with whatever they can send you on."
Have fun.
Just because he's focused on working hard to prepare for auditions doesn't mean Dorsey isn't having fun with it. "I work with a group of actors and whenever one of us has an audition, we all get together and we all work together on it," he says. "I think it takes us back to our film school days, our drama school days, us just working together and figuring it out because somebody else is going to see something in the material that you won't see." Even though it's been about 14 years since Dorsey was in acting school, he's having a great time working with other good actors. "It's even better than college," he adds. He says he'll also miss his co-workers on "Eastbound & Down." "Those guys are so well-versed at improv so it's like we don't have to work," he says.
Keep it funny.
Before "Eastbound & Down," most of Dorsey's recent work has been drama, but his first two films—"Road Trip" and "Starsky and Hutch"—were actually comedies. "Improv is something that comes second nature to me," he says. "[When] I was taking acting classes as a kid my favorite part was always the improv." Dorsey says executive producer Jody Hill would hire people with strong improv and comedy skills. Fans who enjoy the humor on the show would love the scenes that ended up on the cutting room floor according to Dorsey. "We were going crazy in there," he adds. Even though his new series "Rake" is a drama about a lawyer (Greg Kinnear) who owes a lot of money to a lot of people, including his bookie Roy, Dorsey says it's really more of a dramedy, and he tries to bring some comedy to Roy as well.
Learn about the business.
Training in the craft is important, but it's equally important to learn about the business. Because of his education and training Dorsey says, "I have a grasp of the craft, and I have a grasp of the business also."