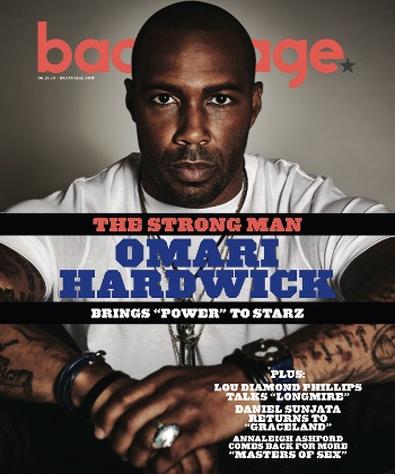 Omari Hardwick is putting on his belt, pausing just inside the entrance of the NoMad Hotel's library in New York City to fasten the buckle. He's just changed clothes after a photo shoot and the edges of his hairline are sharp, the hair cut nearly down to the skin; an attempt, he says later, to get out of James "Ghost" St. Patrick.
"They say, 'Only a mother could love that face'? Only a writer could love this character," says Hardwick of his role on Starz's "Power." "He's a bad dude, but he's a beautiful bad dude."
Ghost is cable TV's newest anti-hero, and "Power" doesn't shy away from exploring the fine line between the necessary and unnecessary evils that lurk within its protagonist, a top New York City drug dealer trying to go legit but still mired in his old slangin' habits for one reason or another.
"He's truly the darkest character I've ever played, and the most complex," says Hardwick. The actor has earned attention for roles in films such as "Next Day Air," "Kick-Ass," and "For Colored Girls," as well as winning a Black Reel Award for his role as a philandering husband on BET's "Being Mary Jane," but "Power" is the first time his name is at the top of the call sheet. "It's amazing that I hesitated [to take the role] 'cause it probably will be the biggest, one of the biggest. If it can do for me what 'Breaking Bad' did, then I'll break bad all day."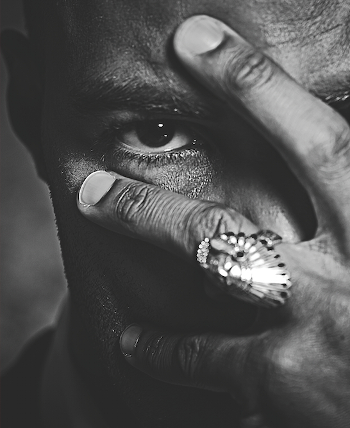 Like any compelling malefactor, Ghost runs the show from the start, far outpacing the potential banality of his familiar narrative. Co-starring Naturi Naughton as Tasha, his ride-or-die, Queens-born wife, and Joseph Sikora as Tommy, his best friend and hustling business partner, "Power" has Ghost struggling between two worlds: one in which friends and family want to keep him under the city's belly, and another in which his dreams of legitimate New York notoriety via a nightclub called Truth are within arm's reach. So it wasn't the storyline that initially stalled Hardwick's acceptance of the role.
The former football player has retained his team-oriented mindset since his days on an NFL developmental squad. "When I originally got [the offer] from my agents and my managers, I didn't know the team," he says about the Curtis Jackson (aka 50 Cent)–executive produced show that's just been renewed for a second season. "Some of the hesitancy, in a very subconscious way—and [what was] the greatest lesson from the original reason for my hesitancy—was 50. I knew he had done film and I thought he was a believable, truthful artist, whereas in most rap careers, I saw—especially in the latter parts of life—fake hip-hop guys. But I didn't know if he could pull off exec producing something I thought could be groundbreaking."
It wasn't until Hardwick met with Jackson, show creator Courtney Kemp Agboh, and pilot director Anthony Hemingway that he understood the level of talent, support, and professionalism involved. "I don't know if you know about [Jackson's] reputation, but he's beyond punctual; to call him punctual is an understatement," says Hardwick, who frequently called Jackson to the set for guidance. "When I was, like, 'I really need you to be here,' he would probably be there within an hour of telling me, 'I'm on my way.' I was surprised by how physically present he was, and how accessible he was for me to bounce ideas off of and to ask questions that I had about playing this character that's obviously got hints of his life."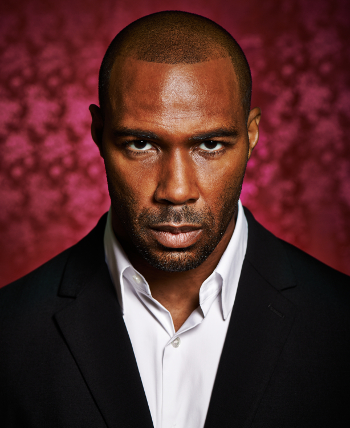 "When you write a character, you're making a black-and-white drawing," says Agboh, a former writer on "The Good Wife" who based Ghost on a combination of her father, Jackson, and herself. "It's the actor that really colors them and fills them out. [Omari's] so intense—his voice is so amazing, it's a great instrument; his gaze, his ability to focus, his stillness—he has an incredible amount of stillness and quiet within him." Though she didn't have anyone in mind while writing the character, Hardwick was among her top choices when Starz picked up the show. "He can play the family man, he's brilliant, he's tough, he's scary, he's sexy—he's got everything that you need," she says.
Hardwick works hard to ensure he brings everything that's needed to set. "I'm such a carnivorous researcher as an actor—I chew it up like it's meat and I really don't know how to do that without the people that are producing or creating or writing that which they want me to chew up," says Hardwick.
As a poet, he found more of Ghost with a poem he wrote about the character and with fiction from writers as disparate as Herman Melville and J.D. Salinger. Melville's Captain Ahab aligned with the "narcissism of Ghost, constantly on a quest for a big-ass whale," and "The Catcher in the Rye" helped Hardwick find the character's rebellion from his life of crime. When those sources tapped out, it was the showrunners who helped him move the ball.
Once he found the character, the struggle began to negotiate with the inner voice that said, "I'm safe where I'm at just being the guy where people go, 'That's a really good actor. What's his name again?' " Hardwick says. "I liked being at that place." Jackson encouraged him to "stop running." When he took the advice it was a headfirst dive into the murky waters of "Power," with an unexpected, sweater-clad pop culture icon lighting his path to Ghost.
"I felt like my focus needed to be the father that he was, the good that he is, not the bad," Hardwick says. "I would play back old tapes of Bill Cosby; [while] creating this monster of a man I watched a lot of the lightness of Cliff Huxtable 'cause I felt like I just need to offset how dark this guy is. I needed to remember that he's a father of three."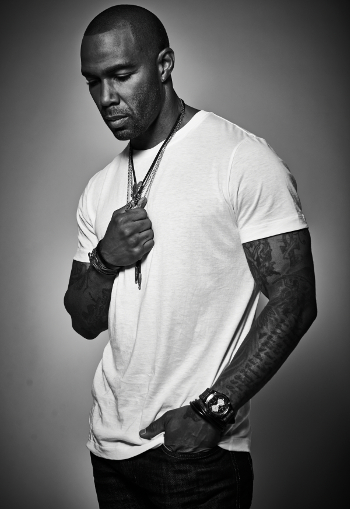 Hardwick also focused on fatherhood while watching documentaries on drug lord Pablo Escobar. Holding in his mind the image of a billionaire who could murder dozens in a day before going home to kiss his children was one of the keys to unlocking Ghost. It was a "Jekyll and Hyde" dynamic that Hardwick fought against at home with his family.
"I think the hardest part was going home and being seen again," he says. "I wanted to at least pay them homage with not just being this brooding guy. The hardest struggle was knowing I had to sort of navigate two lives: Omari's real life and then Ghost."
That back and forth between work and home allowed him to better play Ghost's fractured persona.
"Even if he's aspiring to get to that Pablo status, his real inspiration is a Donald Trump; he wants to be an entrepreneur of clubs, and so be Pablo, be Donald, be Bill Cosby on a quest for Moby Dick, and be accepting and embrace the Shakespearean fall," he says.
Then it was really about "staring in the mirror a lot at my 10, 11 years as an actor," he says. "I was really able to embrace the uglies of Omari, maybe better than I could've as a younger actor.... That was a lot of the research, just really accepting Omari's bullshit and then pouring it into [Ghost]. They pay you money to pour your bullshit into people—it's not a bad gig," he says, laughing. "It is not bad."
---
Let's Get Physical
One of Omari Hardwick's biggest pet peeves in movies and TV: "When there's no display of a physical presence working out to become physical," says the actor, who clearly puts in the work to get the body we see quite a bit of on "Power."
" 'So, Courtney, I don't care if I'm hitting a bag, doing pull-ups, pushups,' " he recalls telling the show's creator, Courtney Kemp Agboh. "She goes, 'Well, Omari, you run.' "
That choice turned out to be a fitting physical metaphor for Ghost's life. "He's constantly trying to fly away and run away from everything, so how about we introduce that?" Hardwick pointed out. But during a 16-hour photo shoot following a 120-hour work week, Hardwick's back gave out.
"There's a crazy running scene that you'll see at the end of the season, and they gave me two epidural shots to make sure I could actually execute it," he says. "We got through it, probably two days after the first needle in the spine. After going to Europe to sell the show, we got the second one. [The doctor] thinks that because of the shape I'm in, we could avoid [a] third!"
Inspired by this post? Check out our television audition listings!