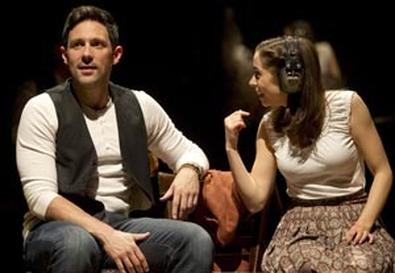 By daring to take a quiet approach and hewing close to the original plot, playwright Enda Walsh and songwriters Glen Hansard and Markéta Irglová have transformed "Once," the 2006 indie film that won an Academy Award for best song, into an offbeat musical that's as intimate and immediate as a set of deeply felt folk songs heard in a Greenwich Village club. Those who attend this New York Theatre Workshop production will be treated to gorgeous folk-pop tunes that support the story of two lives redeemed from hopelessness via the power of love filtered through music-making. It's not "Oklahoma!," but it is genuine musical theater.

Set in contemporary Dublin, Ireland, "Once" is the story of the Guy, a brokenhearted songwriter who's about to give up music when he meets the Girl, a Czech émigré with a classically based piano style that blends perfectly with his folk-based oeuvre. They form a band, make a demo designed to launch the Guy's career, and fall deeply in love. However, the Girl has an overseas husband, so she never allows their relationship to advance beyond the platonic. In the end, the Guy goes to New York to reunite with his former girlfriend, but not before he buys the Girl the piano she's always wanted but couldn't afford.

Steve Kazee and Cristin Milioti deliver winning performances as the Guy and the Girl, though the strapping Kazee seems too vital to be as washed up as the Guy is supposed to be. Paul Whitty scores as Billy, the owner of the music store where the Guy and the Girl first make music together. The other cast members, who also constitute the vibrant onstage band, acquit themselves adequately as actors when called on to take roles.

Bob Crowley's flexible unit set doubles as a working Irish pub; drinks are actually sold from the bar at the back of the stage before the show and during intermission. Martin Lowe's lovely orchestrations capture the plaintive sound of the songs from the movie.

Steven Hoggett's choreography is minimal, which is wise for a musical that refuses to go big. Even so, it has its high points. For instance, the moment when the Guy's singing rouses a group of bank employees from their deadened existence is surprisingly moving.

"Once" is not an unalloyed success. Walsh and director John Tiffany make the rookie mistake—or arrogant choice—of eschewing buttons on songs, thus depriving an appreciative audience of the chance to respond and denying "Once" an opportunity to levitate. Also, the scenes in Act 2 detailing the band members' conflicts are embarrassingly wooden. However, these blemishes can be corrected if and when "Once" moves on to Broadway, as I hope it will.

Presented by and at New York Theatre Workshop, 79 E. Fourth St., NYC. Dec. 6–Jan. 15. Tue. and Wed., 7 p.m.; Thu. and Fri., 8 p.m.; Sat., 3 and 8 p.m.; Sun., 2 and 7 p.m. (No performances Sat. and Sun., Dec. 24 and 25; additional performances Mon., Dec. 19, 7 p.m.; Wed., Dec. 21, 2 p.m.; Fri., Dec. 23, 3 p.m.; Wed., Dec. 28, 2 p.m.) (212) 279-4200 or www.ticketcentral.com. Casting by Jim Carnahan/Stephen Kopel.