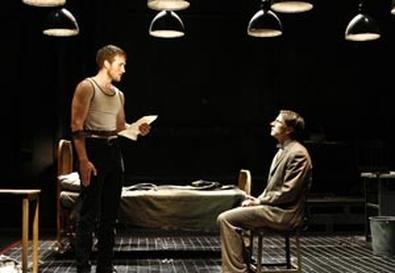 Featuring a protagonist who has lost the ability to feel emotion, "One Arm" is an uncharacteristically cool work from the pen of Tennessee Williams. And yet it's precisely that emotional void that allows this terse drama to worm its way under your skin. Williams wrote it first as a short story in 1942, then adapted it into a screenplay 25 years later, employing the device of an offscreen narrator over the visuals. That device, plus the large cast of characters that film allows for, makes the unproduced work a natural for Tectonic Theater Project's presentational ensemble aesthetic. Thoughtfully adapted and directed by Moisés Kaufman, this taut and fluid co-production with the New Group unsettles with a quiet intensity.

The time is the mid-1960s, and young Ollie Olsen, an Arkansas farm boy of Apollonian physical appeal, has enlisted in the U.S. Navy. Crowned light heavyweight boxing champion of the Pacific Fleet, he loses his right arm in a car accident on the night of his victory. Viewing himself as "mutilated," Ollie gives up on life and is soon making his living on the streets of New Orleans as a prostitute servicing men, despite his heterosexuality. But when Ollie heads to the greener pastures of New York City whoring, he gets in over his head and ends up murdering a man who entices him to do a straight porn film.

On death row facing electrocution, Ollie is surprised when sympathetic letters from his former johns come flooding in. Ollie once again begins to feel, moved that he meant something to these men he dismissed. But it's too late. Williams grants Ollie a final, fleeting moment of connection with a repressed divinity student who thinks he wants to bring the condemned man to religion, and then it's over. As Williams puts it in the narrator's haunting final line, "Death has never been much in the way of completion."

Kaufman has assembled his adaptation from several of Williams' drafts and chooses to tell the story in flashback from Ollie's prison cell. This is not how my published version of the screenplay tells it, but whether it's Williams' or Kaufman's idea, it's a good one, giving the picaresque story a center. Set designer Derek McLane reinforces this by placing a battered prison cot dead center, over which loom rows of cone-shaped metal lights that can be raised and lowered at will, something David Lander makes good use of in his darkly atmospheric lighting design.

Everyone in the gifted eight-person cast plays multiple roles with the exception of Claybourne Elder, who is Ollie. Elder stresses Ollie's decency and innocence, the latter remarkably unsullied by his profession, and incrementally loosens the valve on Ollie's emotions with exacting precision. Using his considerable charisma like a banked fire, Elder keeps us intrigued by the remote Ollie in the same way that Ollie attracts his clientele.

Todd Lawson impresses as that conflicted divinity student terrified of his desires, Steven Hauck is memorable as a world-weary Manhattan sugar daddy, and Noah Bean makes for a gently professorial narrator. Larisa Polonsky, the company's sole woman, proves chameleonic playing a concerned nurse, a lonely but picky New Orleans girl, and a blowsy porn actor desperate to make a buck. K.C. Comeaux, Christopher McCann, and Greg Pierotti also contribute distinguished work.

Knowing that Williams never entirely escaped the shame he was taught to feel about being gay, it's hard not to read this obviously allegorical tale as a metaphor for his struggle to love and be loved free of guilt. The moving climactic act—Ollie, longing to give and to feel love, kisses the quaking divinity student and awakens him to his true self—is not in my published screenplay. Unfailingly right, however, it offers at least a touch of the completion that death denied to this great writer.

Presented by the New Group and Tectonic Theater Project at the Acorn Theatre, 410 W. 42nd St., NYC. June 9–July 3. Mon.–Wed., 7 p.m.; Thu. and Fri., 8 p.m.; Sat., 2 and 8 p.m.
(212) 239-6200, (800) 432-7250, or www.telecharge.com. Casting by Judy Henderson.