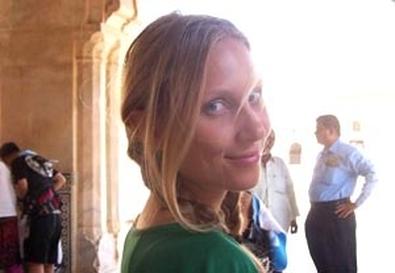 My uncle sits across from me, smoking a cigar.
"So, Lexy," he says, "What's new?" We've just sat down for a late lunch at my uncle's beautiful Italian-style home.
I itch my knee, a nervous tick. "Umm... I went on a few auditions recently," I blurt out, with a half-smile.
My uncle has been a working actor for over thirty years. I feel a bit intimidated discussing work with him, considering I've only done a few TV movies. On occasion I'll think, "My God—he's worked with
Woody Allen
." Despite that, he's very down to earth.
"Yeah, yeah. But what about for
fun
? Do you have things you
like
to do?"
I smile awkwardly. Several seconds go by.
"Lexy?" I stare at his two white Malteses chasing a squirrel from the window.
"Life is a journey," he says finally. "Remember to enjoy it." He puffs deeply, and disappears behind a cloud of smoke.
*******************************
His voice is still in my head later that evening. I try to clear my thoughts.
I'm home on a Friday night, so I light candles, pop in a Sarah McLachlan CD, and take a bath. From my bathtub I have a view of the night sky, which is miraculously full of stars (a miracle for Los Angeles). My mind wanders within the song ("I will remember you..."), and I wonder what it would feel like to fly (I'm sober here by the way...).
I slowly realize my whole life is about acting. I don't know anything else anymore. Every day is 24/7 auditioning, acting class, new headshots, reading
An Actor Prepares
, meeting with 'producers'—and waiting tables to pay for all of it.
What happened to
my
life? 'Alexis' is now a stranger I see when I look in the mirror. My uncle was right. If I don't start living, I'm going to lose who I am. And then what will I have to offer—as a person, or as an artist?
*******************************
I wake up early the next day, and do a little research online. Then I find it: I decide to volunteer at the Arya Kanya Sadan, an orphanage for girls in Faridibad, India. It's time for me to do something that in no-way-shape-or-form resembles acting.
It's time for me to step out of the box.
I board a Delhi-bound plane all by myself, scared to absolute death but also thrilled that for the first time I'm doing something for myself. I'm sitting in coach—not recommended for a 22-hour flight. But first-class tickets are literally triple the price. With my serving-tables salary, even a few dollars more is not an option.
A nice young man sits next to me on the plane. Mohit was born in Delhi, and is returning to visit his family. As we chat, he starts asking me where I'm staying, who I am traveling with, what my plans are. My rehearsed response is that I'm going to play everything by ear once we land.
He becomes insistent, telling me it isn't a safe plan for a young woman to travel alone in India. He gives me phone numbers and directions to safe hostels, even, in case I run into trouble, his family's address.
The conversation continues like this for so long I finally whisper, "I'm a volunteer."
"Oh," he replies, smiling, "Why didn't you just say so!"
We arrive. The India I see is a combination of the amazing and the terrible, at least as compared to what I left back in sunny Los Angeles.
Cows, camels and elephants freely roam the streets. Homeless children hold their little hands out asking for money. I visit Ghandi's tomb and the Taj Mahal; the latter is a brilliant masterpiece, though smaller inside than it looks from the outside. I roam markets and bazaar's purchasing jasmine soaps, Indian paintings, and curry spices to bring home.
After a bit of touristing, I reach the orphanage at which I will be working. Only then do I really start to really enjoy myself.
Before I arrived, I'd assumed there would be a strict itinerary at the orphange, but there isn't. Besides little projects like re-painting the rooms, the headmaster tells me to work with the girls any way I can: Help them brush their teeth, eat lunch with them, teach them 'American' games, help with their homework. I'll be there five days a week for five hours a day.
Eighty-four girls live at the Arya Kanya Sadan, ranging from ages four to nineteen. The girls flock to me from the first moment. They're not used to blondes; I let them braid my hair.
I make it my mission to make sure they feel loved and important, paying attention to each one I can. I discover the girls love coloring books and crayons, so we color every single day; it lasts for hours. I've never seen children with an attention span like this. I surely wasn't this well-behaved when I was their age.
One day I am walking past a mural of Mother Theresa painted on a sky-blue hallway wall. I notice a little girl sitting all alone.
I recognize her right away: Shanti is one of the youngest girls at the orphanage. She has her nose pierced, and I've spent every day playing, coloring and hugging her. She's wearing a navy blue school uniform and leaning her head against the wall. Her knees bent up, her little feet touching each other as if she's trying to keep warm despite the summer heat.
She seems as though she doesn't recognize me. Though I don't speak Hindi, I kneel down and try talking to her. Although the girls learn English in school, Shanti's too little yet and doesn't speak one word of English.
She looks at me like I'm going to help her. Shanti communicates with me by the way she's looking at me. Her eyes are telling me she's sick. Her eyes are filled with a heaviness I've only seen in adults. I recognize her pain. I recognize the feeling of being alone.
She has a fever—I can tell by her burning forehead. I put my hands up to my face and pretend to sleep as if to ask her, "Do you need to go to bed?" She nods her head 'yes' at me. I pick her up, rest her head on my shoulder, which she helplessly allows, and we find her bedroom.
Shanti shares a room with twenty girls who, at the moment, are at lunch. That means we have a little time of peace and quiet—hopefully, enough time for her to fall asleep.
With my free hand, I pull down her bed from the wall. The girls sleep on wooden planks they call beds. There are no mattresses, only spare pillows and blankets. There are cobwebs in the corners of the ceiling, and old paint is chipping off the walls.
Unlike my room as a child, there are no pictures on the wall, no artwork, nothing. If I wasn't told this was her bedroom, I would have guessed it was an unused spare room. This room needs to be scrubbed down and cleaned. This room needs to feel like a bedroom, not a basement cellar.
I take care of this little girl as if she was my own child. I did everything I could. I made sure she was given medicine, put some fresh water beside her bed, put a cold rag over her forehead. She fell asleep, and I sat next to her so she wasn't alone.
As I sat there, watching her, I become overwhelmed with emotion.
Whatever the reason, her parents gave the beautiful child away. She is an orphan—she has no family. She is alone. I think about all the times I'm mad at my mom for not understanding just 'how hard it is to be an actress,' all the times I don't call my dad back because I'm 'too busy,' or Or how I get mad at my sister for leaving dishes in the sink.
And then I look into this little child's eyes and I see someone who completely
vulnerable
. She is vulnerable in a way I've never really experienced or even believed was possible. It's a kind of vulnerability I've only read about, or seen hinted at in great performances I've seen onstage or on film.
For a brief moment, I feel complete empathy for her like I've never felt it for anyone. Completely, as if we are sharing the same pain, like two people drowning in one huge ocean. It's overwhelming.
Then the feeling pulls away, like water after a wave hits the shore. And disappears.
I am immediately awestruck by the difference between her and I. I realize that when I return to Los Angeles, my life is so fortunate. I have a loving family, friends, a career, opportunities. She has none of these things, and will likely never have them. I'm suddenly deeply fortunate for my life in a way I never want to forget, or take for granted.
***********************
A few weeks after I returned, I saw my uncle. My sister was there, and we all had dinner together. We were all laughing and joking. Later in the evening, he catches me for a moment alone.
"So, how was your trip?"
A broad, easy smile appears on my face. I hug him warmly and whisper 'Thank you' in his ear.
"Enjoy the journey, kiddo!"