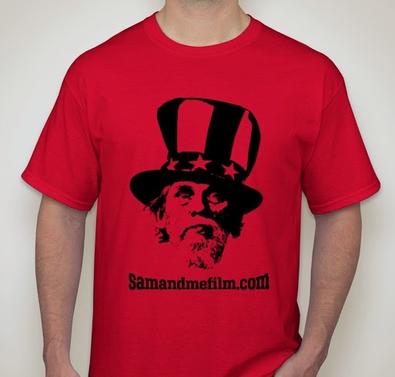 Of all the places to write a political satire, it was in Albania while visiting his wife's family that stand-up comedian Brian Kirk wrote the screenplay for "Sam & Me." The unlikely Eastern European setting inspired him to produce and direct his first feature film, a comedy about a nephew whose overbearing Uncle Sam milks him for all he is worth.
Once Kirk returned home to Florida, he moved forward to turn his script into a film. Some parts he cast from contacts in his local comedy community, but he turned to Backstage to cast other roles. Kirk filmed "Sam & Me" in Florida from 2013-2014, and is now deep in the editing process, working to get the film finished for festivals.
Some of the characters in "Sam and Me" you wrote with particular actors in mind. How did you go about casting the other characters?
Casting was relatively easy. I had a diverse group of friends in the south Florida comedy scene who really stepped up and gave brilliant, believable performances. I used Backstage to cast the main female lead. Madylin Sweeten ["Everybody Loves Raymond"] applied for the role of Lauren, and I'm so grateful that she did.
When actors submitted to you from Backstage what made particular actors stand out from the pack?
Headshots were crucial. A professional headshot that really captured the essence of the actor made we want to learn more, or not. When I first saw Madylin come across the feed, I misread her height (61") as 6 feet 1 inch, but because of who she was, I figured, "I'm 5'7", but we'll make it work!" Because as a huge "Everybody Loves Raymond" fan, I knew I had to have Maddie in the film.
I was honored to learn later that she personally reached out via Backstage, and not her agent. She's a hard-working actress, who is paying her dues, and she's interested in the craft, and expanding her résumé. She was intrigued with the concept, and was immensely fun to work with. She's the anti-diva. She was hauling equipment with the rest of us schlubs. Totally cool young lady, and I can see her on "SNL" someday.
Working on a micro-budget, can you describe how important it was to your production to cast the right actors?
I needed people who could go with the flow, who were open-minded and adventurous enough to deal with last-minute schedule and location changes. People who were interested in having fun, and in being part of something that might fail epically, but who were doing it for the love of the craft, the love of the process. We had so much fun off camera, and I think that energy came through in the takes. With the exception of SAG actors Declan Joyce and Madylin Sweeten, they also had to work for free, or granola bars and energy drinks.
"Sam & Me" is a comedy that has a strong political perspective to it. Were politics ever a problem for the actors?
I went out of my way to be upfront about the center-right or libertarian-leaning philosophy of the film. But I'm proud to say that we have actors who are certainly well to the left of where the script is. I cast my comedy buddy, Patrice Harris, in the role of Dr. Vanessa Rankin, the lead psychiatrist at Uncle Sam's rehab facility. I learned after the fact that Patrice actually was a counselor for a rehab facility. So my instincts about her were correct. Her character was written as someone who is enthralled with Sam, but is also professional and firm. She delivered one of the finest performances in the film.
Patrice is hilarious, and brilliant. Just prior to the 2012 election, we had a mini-debate on a podcast, and she kicked my butt. But I respect her a ton, and I think she knows my heart, even though we aren't aligned politically.
From the get-go, I wanted a film that could appeal to all ideologies, but wasn't watered down in its message. Even though I disagree with his politics, I respect Michael Moore's work tremendously. I can watch "Roger & Me" or "Bowling for Columbine" and come away with the idea that, "Hey, it made me think, and it was really well done." I hope that left-wingers can say the same once "Sam & Me" is released.
But about politics: most actors simply didn't give a crap. They wanted to work. And the relationships I've made I guess transcended any ideological issues they might have had.
Inspired by this post? Check out our audition listings!