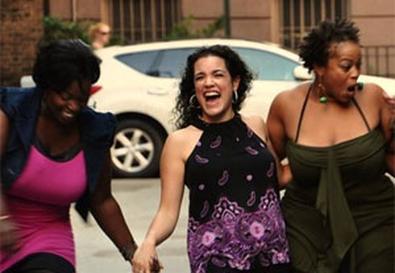 "This One Girl's Story" is the urban lesbian incarnation of "Girls Night: The Musical." Both feature trite representations of women on stage singing booming songs to appear powerful and lack any sort of concrete, compelling plot. While some vocals are astounding, and the high-energy numbers keep the audience clapping, I just don't see the point.
Bill Wright (book and lyrics) and Dionne McClain-Freeney (music and lyrics) have written a flimsy story about a put-upon New Jersey high schooler, Patrice (Zonya Love Johnson), struggling with her gender identity. When Patrice is suspended from school and kicked out of her house, she goes to live with her "sister-cousin-boo," Cee-Cee (Angela Grovey), and through a New York City clubbing adventure, Patrice learns to accept herself, even if it's at the loss of others.
McClain-Freeney and Wright flood the score with reprises, and the songs that aren't reprises sound repetitive, though not unpleasant to the ear. Tanisha Scott's choreography needs more spontaneity and relies too much on synchronized hip-hop dance moves, and Jeremy Dobrish's aimless direction doesn't help matters. Caleb Levengood's set and Josh Quinn's costumes are functional and appropriate for the festival setting.
Grovey is positively magnetic as Cee-Cee, the kindhearted lesbian who holds the female quartet together. Cee-Cee has relationship troubles of her own, and she struggles to decide whether she can accept and love her ex-girlfriend Dessa (a strong Danielle K. Thomas). A Latina friend, Lourdes (Desiree Rodriguez), seems thrown in for stereotypical half-baked jokes about sluts and men, but her sob story never does anything but sob. Zonya Love Johnson channels her character's anger into impressive vocals, and Jade Hicks satisfies in the bit parts, most notably as Dessa's activist ex-girlfriend Thulani.
However, Grovey's stage presence is unparalleled by the others, and she shines even when the material suffers. Like Cee-Cee is the light of the show, Grovey is the light of this production. Hopefully, her next project will be more promising.
Presented by Aaron Glick as part of the New York Musical Theatre Festival at the McGinn/Cazale Theatre, 2162 Broadway, 4th floor, NYC. Sept. 27–Oct. 9. Remaining performances: Fri., Sept. 30, 8 p.m.; Sun., Oct. 2, 4:30 and 8 p.m.; Wed., Oct. 5, 4:30 p.m.; Sun., Oct. 9, 8 p.m. (212) 352-3101, (866) 811-4111, www.theatermania.com, or www.nymf.org.