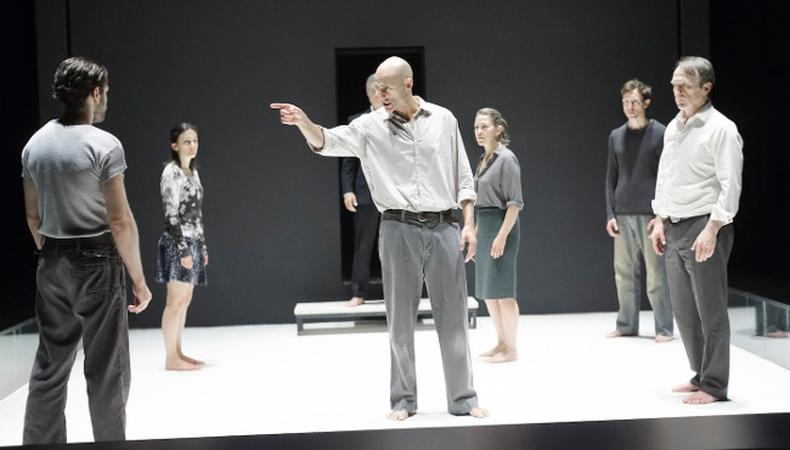 One of the greatest American playwrights and the foundation bearing his name will honor the past and invest in the future come Jan. 25. Celebrating the centennial of Arthur Miller's birth, One Night 100 Years will be a star-studded event at Broadway's Lyceum Theatre, benefiting the outstanding educational programs of the Arthur Miller Foundation.
In addition to performances of Miller's work from the likes of Alec Baldwin, Bradley Cooper, Laurence Fishburne, Greta Gerwig, and Jake Gyllenhaal, the evening will feature glimpses of the playwright's creative process. "The thing that's really exciting [will be] prose passages from Arthur Miller's private journals and diaries that no one has ever heard before," event producer Cindy Tolan told Backstage. "Those will be read by Tony Kushner, Ayad Akhtar, Katori Hall, and various other playwrights and actors."
The benefit will also include an introduction from New York City Schools Chancellor Carmen Fariña, plus video presentations of the foundation's two educational efforts: the Theater Education Program and the Theater and Film Pilot Program. All proceeds from One Night 100 Years will go to these programs, helping introduce the arts into the curricula of NYC schools—a fitting legacy for Miller, a product of the public school system.
"The Arthur Miller Theater Education Program is a teacher support system in which we've selected 15 first- and second-year theater teachers who get the support of our program over the course of a year," said Jaime Hastings, associate of board co-chair Rebecca Miller. These fellows, she added, will develop curricula with mentors and teaching artists from celebrated NYC cultural institutions, be given professional development and networking opportunities, and receive funds for field trips to see live theater.
Donations will help the foundation launch the next step of the program, said Hastings, which will "support teachers in the school system to go back and get their theater certification so we can bring more theater teachers into the system. As of now, less than 10 percent of schools have a theater department in New York City."
The Theater and Film Pilot Program, created in partnership with the Institute of Play, saw impressive results at NYC public school Quest to Learn. "When we went into the school there were no arts courses whatsoever, and now there are a total of six," Hastings said.
Although these programs are in their early stages, One Night 100 Years producer Damon Cardasis said their success has been overwhelming. The benefit, which will be attended by students on the receiving end of those efforts, will celebrate that progress using Miller's words. "You see how relevant and timeless his work is; it can affect people of all generations," he said, citing this season's Broadway productions of "A View From the Bridge" and "The Crucible." "There's just something so powerful and truthful about his writing."
The event will honor that writing with the promise of extending Miller's legacy, added Tolan. "Where is the next Arthur Miller coming from? Could she or he be from public schools?"
For more information, visit arthurmillerfoundation.org.
Inspired by this post? Check out our theater audition listings!