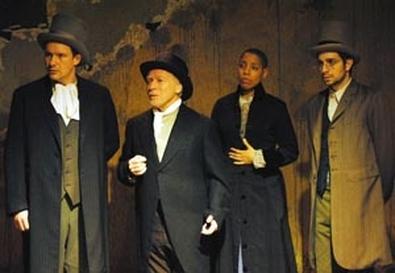 Metropolitan Playhouse finishes its season, devoted to exploring stereotypes, on a high note with director Alex Roe's swift and vivid account of Arthur Arent's "One-Third of a Nation," a play created in 1938 for the Federal Theatre Project's Living Newspaper unit on the subject of substandard housing in America. Though full of carefully researched facts and figures and more than 120 characters, this presentational and frankly political drama bursts with life as it examines the history of New York City real estate and the social and health problems stemming from the slums. A nimble cast of 11 (the original had 25) delivers the show's still-relevant message—that everyone deserves a decent and affordable place to live—with force and conviction.
The title derives from Franklin Delano Roosevelt's second inaugural address: "I see one-third of a nation ill-housed, ill-clad, ill-nourished." The show begins with a tenement fire (Roe is remarkably successful in suggesting it in the tiny black-box space) and its aftermath, then jumps back in time to 1705 to trace the history of Big Apple real estate. We learn how Trinity Church received large land grants from Lord Cornbury, the English governor of New York, and leased that land to a small group of men (one being John Jacob Astor) who consolidated obscene wealth across generations by trafficking in land speculation. We discover the history of ineffective legislation intended to banish such ills as windowless rooms, lack of running water, improper ventilation, and unsanitary toilet facilities, all of which led to repeated cholera epidemics. Arent employs an unseen narrator, who interacts with an Everyman who bounds up on stage from the audience of his own accord, one Mr. Angus K. Buttonkooper. Fictional vignettes designed to give the politics a human face mix with a variety of real-life personages: congressmen, mayors, journalists, lawyers, judges, bureaucrats. Even a tenement gets to comment. The show ends with a stirring plea for federal intervention, noting the government's nascent success at the time in building affordable housing for the poor.
Roe's inventive production includes an evocative and immersive wall treatment (that he designed and built himself), projections on the floor stage-center, and imaginative staging that conjures a slogging climb up a tenement staircase or envisions a court battle as a slow-motion prizefight. The talented actors prove adept quick-sketch artists (characters rarely reappear) and are, happily, all on the same page of heightened theatricality that the script requires. Everyone gets a moment to shine, but particular standouts include a confident and commanding Teresa Kelsey, who even turned an unplanned tumble into a character-specific ad lib; Ben Gougeon, running the gamut from wide-eyed innocence to dark anguish; Meghan Hoffman, especially as a steely young wife refusing her husband's plea to have another child after losing two in infancy thanks to slum filth; and young Leo G. Gitelman, a Manhattan eighth grader who shows a versatility that belies his years. Holding it all together is the excellent Brad Fraizer as Buttonkooper. The only actor not to double, he gets the wisecracking little man down to a period T and plays well off J.M. McDonough's no-nonsense Voice of the Living Newspaper.
If the play's specifics are no longer current, it raises plenty of issues that are, including the greedy concentration of wealth in the hands of a tiny few and I'm-all-right-Jack right-wing resistance to governmental solutions to social problems. My favorite quotation came from Nathan Straus, who in 1938 was the administrator of the U.S. Housing Authority, responding to cries of "socialism" from the moneyed interests about government-built housing: "There is no reform within my memory that has not been attacked as an invasion of private rights and as contrary to economic laws. There is usually the added comment that it's unconstitutional." Health care, anybody?
Presented by and at Metropolitan Playhouse, 220 E. Fourth St., NYC. April 29–May 22. Wed.–Sat., 8 p.m.; Sun., 3 p.m. (Additional performance Sat., May 21, 3 p.m.) (212) 995-5302 or www.metropolitanplayhouse.org.