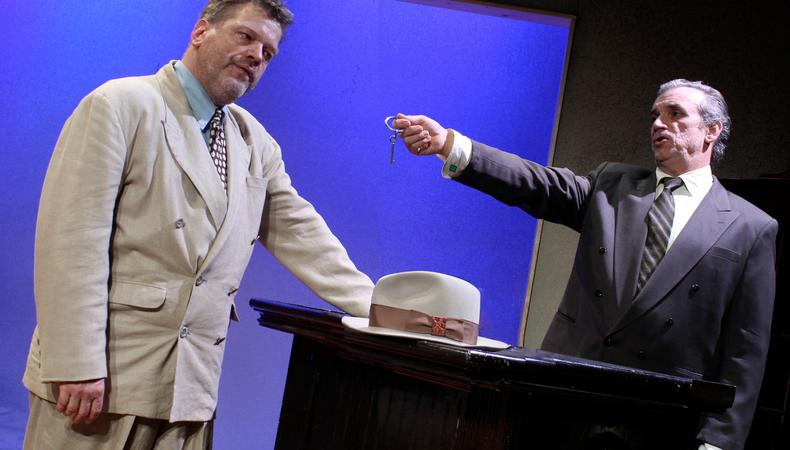 As one of a handful of plays Eugene O'Neill left behind at the time of his death, "Hughie" is something of a grace note to an extraordinary body of work. Though it's a two-hander, the one-act is essentially a monologue delivered by Erie Smith, punctuated by a few comments from Charles Hughes. As if to underscore the relative unimportance of this secondary character, he's listed in the program only as "Night Clerk." In Martha Demson's spare but compelling staging, it becomes clear that this is a deceptively simple play about complex subjects such as karma and redemption.
Raconteur and gamblin' man Erie (Andrew Schlessinger) has been on a four-day bender ever since the death of the previous night clerk at the New York fleabag hotel Erie calls home, a man he called Hughie. As soon as Hughie became fatally ill, Erie lost his confidence and mojo, and he's desperate to get them back. Two things become strikingly clear from this production. First, Erie's kidding himself if he thinks that he has only been jinxed of late; he all but admits that he's nothing but a bum, blessed only with the gift of gab. Second, Erie believes that he has only to find someone to replace Hughie and all will be right again, but it becomes increasingly obvious to us that there is no replacing Hughie. Hard as Erie might try, it's a role that stubbornly refuses to fit Charles. As Erie rhapsodizes about himself and his exploits, the clerk stares politely into space. By doing this, Joe Hulser is both taking care not to pull focus from Schlessinger while also reacting as the clerk would, his face a bland mask devoid of expression or emotion. Even when Erie thinks he has gotten through to Charles, it's a lost cause: When Erie tells a joke, the man laughs in the wrong place. He hasn't a clue what Erie expects from him.
Demson and Schlessinger ensure that we experience Erie's arc, from cheerful, gravel-voiced chatterbox to lost soul desperate for validation. His need is for someone to worship at his feet, to live vicariously through him so that he can see himself as worthwhile. In that, the chunky, pugnacious Schlessinger succeeds. With his stubbly beard, missing upper front teeth, and shapeless worn-out tan suit, the actor delivers Erie's restlessness and self-loathing papered over in braggadocio, his cracking voice shot through with sorrow. Hulser's high cheekbones and sober demeanor are in perfect counterpoint to his co-star's disheveled look.
A. Jeffrey Schoenberg's costumes and the gin-soaked 1920s jazz pre-show music fix the time and place for us, and sound designer Peter Carlstedt provides a steady stream of street noise to filter into the hotel lobby. "Hughie," though, leaves us wanting more, something harsh, stark, and unforgiving, a universe in which Hughie's death was not merely days but years ago and has exacted a terrible price from the one person who needed him but could never admit this to anyone, most of all to himself.
Presented by Open Fist Theatre Company and Gravitas at Open Fist Theatre Company, 6209 Santa Monica Blvd., L.A. Nov. 14–Dec. 13. (323) 882-6912 or www.openfist.org.
Critic's Score: B