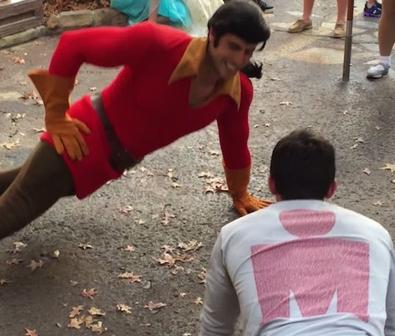 A video has gone viral after YouTube user Blake Platt posted it on Jan. 2.
During a trip to one of the Disney Parks, Platt challenged "Beauty and the Beast's" Gaston to a pushup contest, and the narcissistic villain did not disappoint.
As one of Disney's strongest characters, Gaston—or rather, an insanely believable and talented Method actor—did his pushups with ease, and even reached out a helping hand to his challenger as he continued with one-arm pushups.
Platt originally wrote on the video, "If you've ever wondered what would happen if you challenged Gaston to a pushup contest," and later added, "This got infinitely more attention than I thought it would. We were just having fun and I thought a person or two might get a chuckle out of it."
With over 5 million views as of Jan. 6, we can't help but ask: How Method do theme park performers really get?
Share your experience as a theme park performer (or theme park-goer) in the comments below!
Inspired by this post? Check out our audition listings!