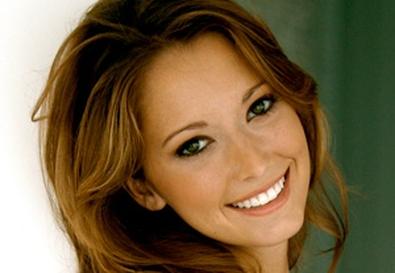 I've always been a tech geek. I built my first sparkly rotating GIF animation when I was 10 (true story), bought my first URL at 13 (www.studentundercover.com), and coded my first website at 15 (it looked terrible). At 16, I received my first cease-and-desist letter for allegedly posting copyrighted photos on my "I Love Beanie Babies" fan site (also true story), resulting in a panic attack and my decision to forever pull the plug on my future career as a ninja computer programmer. #DumbestIdeaEver
Fortunately, my early years as a coding hobbyist weren't a total waste of time. I owe every achievement in my career, as a writer, producer, host, and actor, to the Internet. And yes, I still enjoy spending evenings downloading Wordpress themes and toying with the SEO on my videos. Fun times.
The convergence between traditional media (TV/Film) and social media (online/gaming/interactive) is happening now. When I first started speaking at colleges and acting classes, no one believed that the Internet could be a viable tool for distribution, production, or promotion. Like, what?!?! Cut to 2012 - it's now
commonplace
to read about people selling shows, getting roles, and earning international press from something they did online.
Here's the good news - you don't have to be a tech nerd to take part in the gold rush. You just need to be versed on the various tools now at your disposal for jumpstarting your acting career and DO something about it.
No excuses. It's time to get started on your online brand. For brevity sake, the list below is very simplified, but I'll go into much greater depth for some the items in this checklist in future Back Stage articles. Leave any questions you might have in the comments below!
10 ONLINE TOOLS THAT EVERY ACTOR NEEDS TO BE USING (AND WHY)1. Facebook Fan Page
Unlike a personal Facebook page, a Fan Page allows you to display and shamelessly promote your marketing materials (photos, reel, etc) to fans/industry folk without it getting mixed in alongside photos of you getting smashed at Cabo Cantina. Don't have fans yet? Subscribe to my
Facebook page
and in the comments of my Back Stage article post, post a link to your newly created Facebook page, and I'll happily give you a like.
2. Twitter Handle
I don't care what anyone says, it's NOT too late to join Twitter. If you use it correctly, it could singlehandedly be the best thing you ever did for our career (and the worst thing for your phone's data plan). Connect with other actors and filmmakers by following them. Retweet stuff you find funny or interesting. Share articles YOU like. If you're funny, tell jokes. Be candid. As actors, we're all used to fitting into someone else's mold. Not on Twitter. Share
whatever
represents
you
. After you've developed a following, Twitter can be a very powerful promotional tool.
3. YouTube Account
Thanks to the YouTube Partner Program, there's an incredibly robust community of YouTuber actors out there kicking major ass. Whether they're making
funny video blogs
,
sketches
,
horror series
, or
music videos
, they're making names for themselves and earning money while doing it. Start by creating a channel. Make a video. Make three. Collaborate with your friends. Post the video. And repeat. Design your
channel landing page
so people know where else they can find you.
4. Bit.ly
Now that you've got accounts on the three biggie networks, take ten seconds to join bit.ly. Bit.ly is a fantastic link shortening service that shortens, shares, and tracks web links. Though Twitter is now in the habit of automatically shortening links, Bit.ly allows for customization (i.e. I can turn
http://itunes.apple.com/us/album/touch-your-boobies-single/id474503477
into
bit.ly/boobyitunes
- much more fun/easy to share), but more importantly, you can then track how many people view that one link as a result of sharing - in this case, more than 10,000.
5. Personal Blog/Website
You absolutely need a website that houses your contact info, reels, social media links, and anything else that showcases who you are. Just be careful. Having a crappy website is far worse than nothing at all, so make sure you shop around when looking for a web designer. Don't skimp. Make sure you see examples of great sites. See examples of what they've done. Don't build your site made in Flash. (It's not mobile friendly!) I recommend customizing an existing Wordpress template because it's easy to update and cheap to buy (under $50). Here's a great example of an
actor friend's site
. It's clean, simple, with full social media integration, and blog capabilities. My favorite places to find templates are
Theme Forest
and
Woo Themes
.
6. Instagram

While your headshots might be great for auditions, they aren't nearly as useful for online branding. Think of your website as a magazine spread and use stylized photos to create the image you want to convey. You want to be cast in bad ass projects? Post bad-ass photos, like Taryn O'Neill does on her
website
. You want to convey your comedy side? Get weird! (As you can see, my
homepage
displays photos of me blowing bubbles in broken fairy wings.) While both of these examples were taken by professional photographers, Instagram takes zero effort and gives you a variety of super stylized looks for FREE. (Not to mention the instagram community is another resource for connecting with other influencers and developing a fan base.)
7. Hootsuite

If you don't feel like updating your Twitter, fan page, personal page, and website separately, this little app will save your life. There are others too, but I'm a hootsuite fan myself. You post an update and dictate where and when it posts. Brilliant.
8. Fiverr

This site has been my dirty little secret for almost two years. Get anyone to do anything for just $5. No joke! Need a pop track for a video? A title card for your demo reel? Someone to photoshop your last headshot? Done, done, and done, all for less than the cost of a McDonald's value meal. You can peruse services people are already offering or post a need and watch the Fiverr community bid to complete the service. I've used Fiverrr for so much awesome stuff, such as for my
customized Twitter background
. Just be careful - once you start, it's tough to stop.
9. Email Newsletter Service
For those of you who are more advanced in your social media prowess, email newsletters are a fantastic way to keep in touch with fans and/or industry folk who sign up for your mailing list via your website. There are a few services you can use, but in my experience,
MailChimp
and
YMLP
are great. Send updates about once/month. More than that is overkill.
10. Kickstarter/IndieGogo
Need money for that next project? Shoot a video detailing your vision, budget it out, and post it up on one of these two sites. Both sites allow you to crowdsource funds, and in return, take a percentage of the proceeds. Raising money has never been as easy as it is now with these two sites.
Over the next few months, I'll go into more detail as to how to use these mediums to further your career. Already a social media/internet ninja? Leave a comment below with your favorite site/social media tool. Sharing is caring! Until next month.

Taryn Southern is an actress, host, writer, and producer with more than 100,000,000 views on her online videos. Check out her latest projects, anecdotes, and advice at www.tarynsouthern.com, or connect with her by sending her a message on Twitter @tarynsouthern or subscribing to her public updates on Facebook.