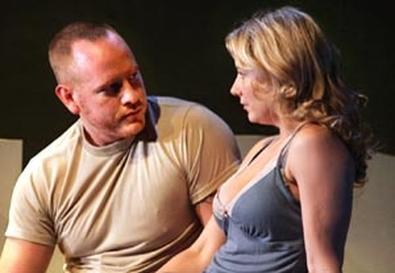 It's always exciting to hear a fresh new voice in the theater. Bekah Brunstetter has an impressive résumé, with many works mounted Off-Off-Broadway, but "Oohrah!" is her Off-Broadway debut. Presented at the intimate Atlantic Stage 2, the play skillfully depicts how the demands of military service affect an individual family and society as a whole. Brunstetter's people are real and funny. She never condescends to them or treats them as symbols to put a point across. They chat about reality shows and recipes, video games and Home Depot, as well as the loneliness of waiting for a loved one stationed overseas, the desire to be of use to one's community, and the resultant pain when that need conflicts with the happiness of a spouse or child.

The play opens with sisters Sara and Abby loading care packages in the kitchen (an impressively detailed set by Lee Savage) while awaiting the return of Sara's husband, Ron, from his fourth tour of duty in Iraq. Sara dreams of a "normal" civilian life in which Ron works at Krispy Krème Doughnuts while she whips up dinners out of a Martha Stewart cookbook. She's also concerned about her adolescent daughter, Lacey, who has recently cut her hair short and taken to dressing up in her dad's fatigues. Meanwhile, Abby is frustrated with her fiancé, Christopher, a nerdy security guard who can't even light a charcoal grill. When an attractive and secretive Marine named Chip enters the family's home, each member must reassess his or her loyalties, both to the service and to each other.

Director Evan Cabnet and the cast deliver a solid production that balances wildly absurd comedy with genuinely moving moments. As Sara, Jennifer Mudge exemplifies both as she desperately plans the perfect suburban existence only to be disappointed by reality. Cassie Beck manages to make Abby's jittery dissatisfaction fascinating as she flirts with Chip, knowing she is playing with fire. Darren Goldstein's Ron and Maximilian Osinksi's Chip are contrasting studies of men searching for their place in a confusing environment. Young Sami Gayle gives a startlingly original performance as the tomboy Lacey, full of self-confidence and bluster yet yearning for approval. Lucas Near-Verbrugghe nearly steals the show as the pathetic Christopher, wearing his insecurities on his sleeve. He could easily have been played as a sitcom cliché, the annoying wimp obsessed with his PlayStation, yet Near-Verbrugghe clearly knows this guy is sincere in his love for Abby, even though he's a bit of a fool. As the doddering grandfather doling out wisdom with worn-out war stories, J.R. Horne admirably completes the ensemble.

A big hurrah for "Oohrah!"

Presented by Atlantic Theater Company at Atlantic Stage 2, 330 W. 16th St., NYC. Sept. 10–27. Tue.–Sun., 7:30 p.m.; Sat. and Sun., 2:30 p.m. (212) 279-4200 or www.ticketcentral.com. Casting by MelCap Casting.