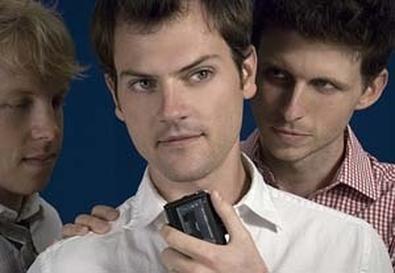 Opposition to same-sex marriage is, at its heart, simply a desire to be considered superior. A recent expression of this came from Ross Douthat, token right-wing voice on the New York Times op-ed page. His objection? That gay marriage would not be monogamous, hence it's inferior to "the celebration of lifelong heterosexual monogamy as a unique and indispensable estate." That, of course, ignores rampant marital infidelity across America. Monogamy is a difficult thing to maintain, and I'm not at all sure it's the "ideal" Douthat terms it. Neither are the couples interviewed by author-director Joe Salvatore for his intriguing exploration of open relationships among gay men, "Open Heart."
Salvatore calls his work "a new verbatim interview play," meaning the text is a collage of the actual comments of real people. This brings pluses and minuses. Authentic voices shine through, but documenting every "er," "uh," and "hmm" can get annoying, and sometimes Salvatore's structure gets unclear and overcrowded. For the most part, though, "Open Heart" is engrossing and illuminating.
Salvatore's five-person cast—Chris Bresky, Stephen Donovan, Daryl Embry, Nick Lewis, Karl O'Brian Williams—offers nuanced work, deftly distinguishing between sometimes similar, other times divergent characters. Blake McCarty's projection design, however, is more distracting than enhancing.
Presented by Joes & Co. as part of the New York International Fringe Festival
at La MaMa ETC, 74A E. Fourth St., NYC.
Aug. 19–29. Remaining performances: Sun. Aug. 22, 8:15 p.m.; Thu., Aug. 26, 8 p.m.; Sat., Aug. 28, 7 p.m.; Sun. Aug. 29, noon.
(866) 468-7619 or www.fringenyc.org.