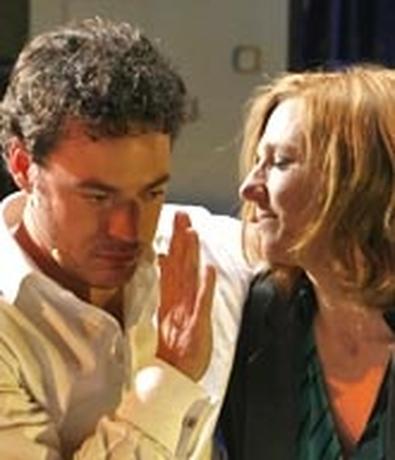 There's something both creative and perverse about taking a movie masterpiece and adapting it for the stage. It's one thing to make a slick musical out of a commercial film like Legally Blonde, but the recent European trend of adapting films into a theatrical director's vision simultaneously stimulates and exhausts. Such is the case with the gorgeous but ultimately wearying Opening Night, directed by Ivo van Hove at Brooklyn Academy of Music's 2008 Next Wave Festival.
One can see the appeal for an auteur director like van Hove: Film is a visual medium, and it tells its stories less through language than through imagery and emotion. And John Cassavetes' 1977 film Opening Night is about the theatre. The story of Myrtle, an aging actor who is resisting playing an aging woman in a new play — performed by Gena Rowlands in the film and here by Elsie de Brauw, whose moody fragility convincingly deteriorates into instability before our eyes — is intact. Myrtle is mentally melting down after Nancy (Hadewych Minis), a nubile young fan, is killed in an auto accident outside the theatre.
It's not a good idea to see the film before attending the stage production — you'll be bored. Van Hove puts the movie's scenes — set in rehearsals, hotel rooms, and elsewhere — on the large BAM Harvey Theater stage, but too often it's unclear what's happening: Is it the play within a play? Are we somewhere else? Is that a producer or a writer? As a result, the story is not clearly told. Some audience members sit on the stage and are in the "house" when the onstage play gets to opening night. There are film cameras everywhere, and their presence seems a meta comment at first, but we learn later they are documentarians. Moody Neil Young music underscores, packing an emotional punch. Close-ups of live action are shown on a huge screen, on an upstage wall, and on small TV sets downstage, but the effect is less avant-garde and more like Madison Square Garden or Shea Stadium.
The play and the film both put strong women dealing with identity and age center stage: Myrtle is literally haunted by Nancy, and the playwright, Sarah (Chris Nietvelt), says, "Until you can say your age, you can't accept my play." The men — including director Manny (Fedja van Huêt); Myrtle's leading man and ex-husband, Maurice (Jacob Derwig); and producer David (Johan van Assche) — are predatory, self-involved, and dense. The endless discussions of emotions and feelings are Chekhovian but also, well, like a '70s film.
Though there is some wonderful acting — particularly from de Brauw and Derwig — and striking mise en scène, Opening Night ultimately feels like a translation and not a satisfying theatrical work.
Presented by Brooklyn Academy of Music as part of 2008 Next Wave Festival
at the BAM Harvey Theater, 651 Fulton St., Brooklyn, NYC.
Dec. 2-6. Wed.-Sat., 7:30 p.m.
(718) 636-4100 or www.bam.org.