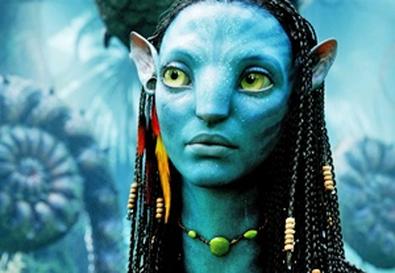 "It was sort of a three-tiered job for me, in that I was brought on initially to develop a dialect," says dialect coach Carla Meyer on the telephone from Albuquerque, N.M., where she's working with Australian actor Sullivan Stapleton on a television pilot in which he plays a Las Vegas policeman. But what's this about "a three-tiered job" and developing a dialect? It's Meyer explaining how she taught the Na'vi of Pandora to speak.
Meyer's the one James Cameron hired in 2006 to fill an extremely particular assignment on what's now the biggest-grossing movie of all time, "Avatar." As she puts it about the 2006 start for a 2009 release, "For a dialect coach, that's extremely early." On the other hand, the task was enormous—preparing to instruct actors in a language that had already been created by University of Southern California linguist Paul Frommer from a few words that director-writer Cameron slotted in his "Avatar" script.
Musical and Mellifluous
According to Frommer, Cameron wanted the language to be "musical and mellifluous," and Meyer had to put it into practice. She began by figuring out "which sounds did not exist in the Na'vi" and which sounds were slightly different, noting, for example, what she calls "the ejective 't,' as in 'cat.' The tongue is a little flatter and punched."
It's those minute details on which Meyer focused. "What I had to do," she says, "was figure out what would be the slant on all of their sounds—a stronger, clearer, slight Na'vi color to all of the sounds." Because the Na'vi are "a meticulous society," she says, she decided, for instance, that when Zoe Saldana's Neytiri talks to Sam Worthington's Jake Sully, she'd "give the 'th' extra time—slightly extended." Meyer demonstrates over the phone by prolonging the "th" in the sentence "That is not right."
Once Meyer decided how Frommer's made-up language would sound, she had to teach it to the actors, which she did at first with Saldana, an early Cameron casting choice. "I wanted it to be as comfortable as possible," Meyer says. She recalls about this "second-tier" effort, "Zoe and I worked together and found things that felt right to her." The more extensive work began in March of 2007, when filming started, lasting through the end of July, "when we shot the bulk of the Na'vi. I was like the Na'vi nanny on set every day."
She mentions the frequent improvisation, and that when new words were needed, "we'd take words from the Frommer list not yet assigned meanings." Meyer would decide how they'd sound. At other times, if Frommer wasn't reachable to make a decision on a new word, "occasionally Jim would make up a word," she says. "Occasionally I would make up a word." After a break, filming continued in New Zealand, from fall 2007 until February 2008.
Meyer's "third tier"? Sam Worthington, whom she characterizes as "very, very Australian." He's from Perth, she points out, which meant that "most of us had no idea what he was saying when he speaks full on. I worked with him, not on making him totally American, but bringing his Australian to a point where it wasn't distracting—a more neutral sound, really, to bring it a nonregional, conversational American." She didn't try for a so-called "Midlantic" sound, because "it would be too elegant for his character," she says.
Puritans and Pirates
Although Meyer allows that the "Avatar" stint, which occupied close to four years of her life, off and on, is perhaps the most unusual request on her résumé, she's had somewhat similar challenges. Asked for an instance, she immediately replies, "One of the most interesting was 'The Crucible,' because there we had to find a way of speaking that obviously wasn't recorded. We had little information on what Puritans might have sounded like," and, she reports, those involved searched out rural Maine speakers. She gave "a slew of examples" to director Nicholas Hytner and star Daniel Day-Lewis.
The trio agreed that one speaker's accent "would be the standard." Incorporating some variations, Meyer compiled a teaching guide and a practice tape for all the actors, so that when shooting commenced, "everybody had heard the tape and knew where we were going," she says. "The challenge was making everybody sound like they came from the same community." Meyer, who more recently was involved with "Alice in Wonderland," quickly refers to her work on the second "Pirates of the Caribbean" film, saying, "The cannibals all had their own made-up language," created by UCLA linguist Peter Ladefoged. She declares this chore "a romp" compared to "Avatar": "It was fun; it was whimsical. The sense of humor is very cheeky."
Meyer got to Hollywood after studying with Edith Skinner at Carnegie Mellon University, spending time in St. Louis acting and teaching, as well as acting in New York, often doing commercial voiceovers. She was available when Robert Redford needed a coach for Sonia Braga on "The Milagro Beanfield War." That break led to her working regularly, often for several films at once, with a parade of actors, including Ewan McGregor, Clive Owen, Jude Law, Nicole Kidman, Anne Hathaway, Naomi Watts, Jennifer Jason Leigh, Rachel Weisz, Cate Blanchett, Hilary Swank, and Emma Thompson.
As an actor, Meyer supplied the voice of the mother in 1990's "The Rescuers Down Under" and still gets the occasional "residual check for 35 cents," she says. Obviously, she no longer needs to count on those checks.