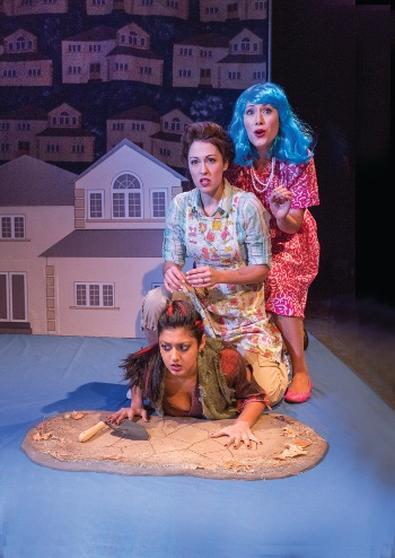 If you're curious about what New York and regional theaters across the country will look and feel like in the future, the 31st annual DirectorFest can be your crystal ball. Four up-and-coming directors will showcase brand-new work, the result of their Drama League Directors Project fellowships, in five performances Dec. 13–16 at TBG Theatre.
"These are the directors you'll see at the major theaters and on Broadway in five to 10 years," said Gabriel Shanks, executive director of the Drama League. This year's fellows, Elena Heyman, Michael Leibenluft, Caitlin Sullivan, and Michael Osinski, all received assistant opportunities at New York and major regional theaters, as well as a master directing retreat under the tutelage of Red Bull Theater's Jesse Berger. Fully produced with casting directors, Equity actors, and a production crew, DirectorFest 2014 is the grand culmination of each fellow's efforts.
"The exciting thing this year is you're also going to see the up-and-coming playwrights," Shanks told Backstage. In collaboration with artistic director Roger T. Danforth, each fellow chooses a play to direct; this year, all selections happened to be new plays from female writers. "It is totally coincidental," reported Danforth. "It really shows that there is an enormous amount of talented young female writers out there, that they're seeing their work and gravitating toward it."
How much does this coincidence have to do with the list of 46 works by women playwrights released by the Kilroys earlier this year? "I think it's part of the big sea change that is beginning to happen coming into the arts," said Danforth of the famed list. "Do I think we're there yet at parity? Absolutely not. But we're starting to recognize there's an extraordinary body of really talented female playwrights out there." The directors' one-act selections this year—Callie Kimball's "May 39th," Dipika Guha's "Mechanics of Love," Sheila Callaghan's "He Ate the Sun," and "I'll Never Love Again!" by Clare Barron, the recent recipient of the 2014 Paula Vogel Playwriting Award—reflect that sea change.
For Heyman, Leibenluft, Sullivan, and Osinski, going through the casting process with established casting directors was an eye-opening experience. DirectorFest, according to Shanks, is largely about giving the fellows a feel for "what it's like to direct a full production in New York City." A crucial part of that process is assessing overwhelming amounts of talent from New York performers. "They're not used to seeing so many good actors and then after callbacks sitting there and going, 'Oh my God, I could cast every part three times over,' " said Danforth.
"The thing people don't realize," he continued, "is casting is as nerve-racking for directors as it is for actors. Because there's always that fear of, What if I don't find that role?" Danforth's advice for auditioners boils down to confidence: If an actor walks in projecting "Relax, I'm the person you're looking for," directors have one less thing to worry about.
For tickets to see tomorrow's theater visionaries today, visit dramaleague.org.
Inspired by this post? Check out our theater audition listings!