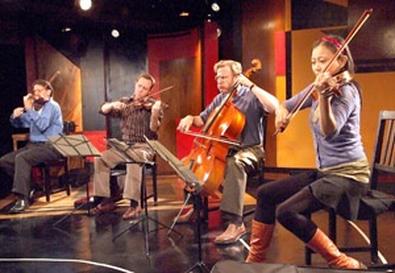 The world of classical chamber music easily evokes images of grace and splendor. But in this insightful play by violinist-turned-playwright Michael Hollinger, we get a warts-and-all glimpse of the behind-the-scenes interactions among members of a fictional string quartet preparing for a prestigious White House performance. Behind their creation of enduringly resplendent music, the musicians grapple with the same challenges of loyalty, insecurity, personal differences, and other human foibles that can surface in any group endeavor. Director Simon Levy's lovingly crafted production perfectly captures the tension and the aesthetic beauty that make this intelligent play take flight.
As the play opens, three members of the Lazara Quartet are auditioning well-trained violinist Grace (Jia Doughman) for an open slot in their group. Despite her reluctance to give up an impending audition for the Pittsburgh orchestra, Grace accepts the men's offer to join them. The recently ousted Dorian (Daniel Blinkoff) had infuriated his co-workers with his perfectionism and volatile personality, and there was added tension due to his love relationship with the first violinist, the uppity Elliot (Christian Lebano). Peacemaker and second violinist Alan (Cooper Thornton) tries to keep civility in the group. Meanwhile, there are unexpected developments in the health of cellist Carl (Gregory G. Giles). Startling plot reversals keep the play fascinating up to the final melodic fadeout.
Levy smoothly navigates among the intriguing rehearsal scenes and story flashbacks, as the dramatic stakes escalate. The actors adeptly simulate the playing of instruments, synced up to gorgeous recorded music. (Salutes are due sound designer Peter Bayne and musical advisers Roy Tanabe and Larry Sonderling.) Frederica Nascimento's breathtaking lovely set, Ken Booth's lighting, A. Jeffrey Schoenberg's costumes, and Goar Galstyan's props enhance the crackling atmosphere.
The five-member ensemble is rock-solid. The splendid Doughman radiates dignity and strength as Grace works to watch out for herself when the fur starts to fly. Lebano expertly conveys the egotism and self-assurance that are his trump card and his Achilles heel. As the temperamental artiste, Blinkoff offers a characterization rich in nuance and wit. In subtler roles, Giles and Thornton provide welcome balance in their well-modulated portrayals. Levy's classy production delivers a symphony of harmonious pleasures.
Presented by and at the Fountain Theatre, 5060 Fountain Ave., L.A. June 19-July 25. Thu.-Sat., 8 p.m.; Sun., 2 p.m. (323) 663-1525. www.fountaintheatre.com.