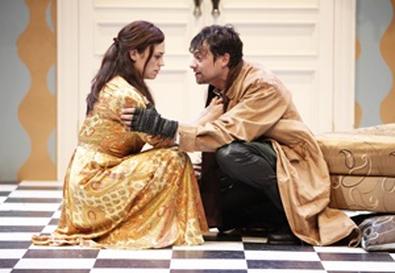 "Or," sounds hedging as a title, but there's no doubt about the play's appeal. Liz Duffy Adams' historical romp of a backstage sex farce about Restoration playwright Aphra Behn displays style, humor, and jaw-dropping wit. Whether speaking in rhymed couplets or hiding in closets, Adams' characters surprise and appeal. It's a workout for all three actors. Two play multiple roles at a great clip, and Behn is onstage constantly. Director Wendy McClellan shines with the storytelling and pace.
This 90 minutes of fun from Women's Project alludes to the 1960s while illuminating the 1660s (a clever rhymed prologue delivered by Kelly Hutchinson informs us it will). The mood is Carnaby Street and Flower Power; pastoral, lighthearted sex; and a hint of darker times ahead. Such a relief is the Restoration, which followed the repression of the Roundheads, that actor Nell Gwynne (Hutchinson) crows about "happenings." "Tune in and turn on!" she says. Rock music from the Kinks, the Byrds, and others adds a groovy vibe to the pre-show (sound design by Elizabeth Rhodes).
Behn, played with wry intelligence and simmering sex appeal by Maggie Siff, has been working as an English spy abroad. We first meet her in debtors prison writing a dunning letter to Charles II, who shortly arrives in disguise. As Charles, Andy Paris has kindly sex appeal. Behn agrees he can "protect" her until she achieves eternal glory as a playwright.
Most of the play takes place amidst Behn's beautiful appointments (set design by Zane Philstrom) and becomes a true sex farce. Gwynne hides in the bedroom when Behn expects Charles, but it's William (also Paris), a double agent presumed dead and Behn's ex-boyfriend, who arrives. As Gwynne, Hutchinson has roguish self-assurance; she's broadly funny in her other roles as well. William hides in the closet when Lady Davenant, the owner of the Duke's Company, appears. Her tour de force, comically uninterrupted, Lady Bracknell–like monologue is delivered, surprisingly, by Paris, now in drag (while his William is in the closet).
William's desperate bitterness about war evokes Vietnam. But the play ends on an irresistible upbeat note, evoking both the joys of love and the joy of a woman writing in a room of her own.
Presented by Women's Project at the Julia Miles Theater, 424 W. 55th St., NYC. Nov. 6–Dec. 13. Mon. and Tue., 7 p.m.; Thu.–Sat., 8 p.m.; Sun., 3 p.m. (212) 239-6200, (800) 432-7250, or www.telecharge.com. Casting by Alaine Alldaffer.