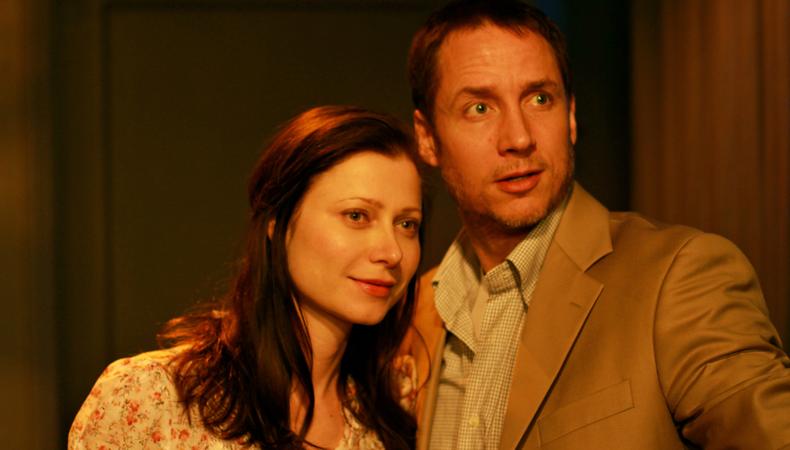 There are some powerful moments in Craig Wright's "Orange Flower Water," which deals with the shattering effect of adultery on families and innocent spouses. Unfortunately, the Creative Collective's production suffers from a few weak performances and negligent direction.
As the play opens, Cathy Calhoun (Leslie Liberman) is writing a note to husband David (Jeff Denton), instructing him about what to do for the children while she is away and adding a declaration of love. But unbeknownst to Cathy, David is cheating with Beth Youngquist (Sarah Ann Schultz). We meet the two lovers in a motel room. The passion between them is irresistible, and they are bent on being together. When Beth finally tells her spouse, Brad (Mick Thyer), that she is leaving him, he goes through a litany of emotions: rage, pain, neediness, and heartbreak. He has known about the affair but can look beyond it because of how much he loves his wife. The turmoil takes its toll on Beth, who ends up sobbing on their bed.
During the breakup scene between David and Cathy, she demands that he make love to her. Unable to get aroused at first, he finally accomplishes the act, but the marriage is over. There is a very civilized encounter between the two women, and then a scene in which David and Beth are moving into a new home, and she complains that there aren't enough bedrooms for her sons. The lovers, now a couple, start having problems reminiscent of conflicts in their former marriages, but they finally find a new beginning together.
Director Stephanie Feury's physical staging is smart and smooth, and she orchestrates some starkly painful episodes. However, it is difficult to understand why she allows Denton to give such an unvaried performance. His voice and delivery are not solidly grounded, making him barely audible. Denton does display sensuality in the motel scene, but he seems unconcerned with his responsibility to the audience.
In contrast, Thyer is totally present whenever he is onstage and gives the strongest, most complete turn of the evening. His Brad is initially obnoxious and crass as he makes crude remarks about women at his son's soccer game, but Thyer later engenders genuine sympathy when Brad bares his soul to Beth, revealing a sensitivity and vulnerability that grab at us. Schultz starts out on a definitive note, but instead of lifting Denton's performance during the motel scene, she descends to his level. Conversely, in her breakup scene with Thyer, she matches the strength of his work and is extremely effective. Liberman is somewhere in the middle. Her instincts are correct, and there is nothing wrong with her choices, but she is a bit bland and needs to give more of herself.
Ultimately, "Orange Flower Water" proves a cautionary example that an ensemble work such as this can never be stronger than its weakest link.
Presented by the Creative Collective, in association with the Stephanie Feury Studio Theatre, at SFS Theatre, 5636 Melrose Ave., L.A. March 15–April 20. (323) 463-7378 or www.plays411.net.
Critic's Score: C