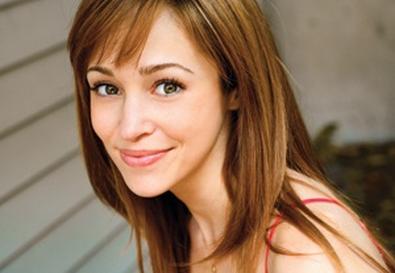 How would Taylor Townsend, Autumn Reeser's perma-perky "The O.C." alter ego, attack the raging monster that is pilot season? One imagines she'd show up superprepared: armed to the teeth with clipboards, color-coded charts and graphs, and that ear-to-ear smile that won a legion of fans during Reeser's stint on the popular teen drama.
Reeser may not be as insanely Type-A as her character, but she's a strong believer in preparedness—and she approaches pilot season with the kind of verve that would make Taylor proud. "You have to be honest with yourself about the amount of time it's going to take," she says firmly. "I think a lot of actors, we underprepare emotionally for how intense pilot season can be. And we underprepare the people around us, our support system. So when it starts taking up more time than you expect it to, we feel guilty. I think it's important to prepare people for what to expect and to say, 'It's not that I don't want to come out tonight; it's just, I really have to focus on getting a job right now.' "
That kind of focus paid off particularly well for the actor last pilot season: She nabbed the role of Katie, the peppy lab tech on ABC's superhero hit "No Ordinary Family." As the nonsuperpowered voice of reason, Reeser stands out among the gaggle of speedsters and mind-readers. In a way, she's the audience's way in—and often provides bits of much-needed comic relief. "I immediately had ideas when I read this part about what I wanted to do with it and how to make it funny," Reeser says. "I really enjoy doing this blend of comedy and drama. Because this is such fantastical subject matter, it's important that the acting stay grounded in drama."
The actor notes that she kicked off pilot season feeling confident and ready to work, and she believes her can-do attitude was a huge asset. "You have to audition for yourself; set a goal for yourself, and that's the only thing that's important," she says. "You're not going to get every part, so you can't base your sense of self-worth around whether or not you actually land the job. You have to set your own goals, even if it's just 'Go in there and don't shake.' "
That is not to say, of course, that Reeser has never had a bad audition. On the contrary, she notes, just like any veteran thespian, she has a boatload of horror stories to share. She recalls one time in particular when she went in and the casting associate ignored her in favor of a loud personal phone conversation in between bouts of solitaire. "She said, 'Yeah, well, we've already cast this part, unless we find somebody here who just blows us away, but I really don't think that's gonna happen,' " Reeser recalls with a laugh. "So then you feel really good that you spent all day preparing for this."
The actor had a somewhat better time of it when she tried out for her very first play. Inspiration hit her around age 6, after a viewing of a stage production of "Cinderella," and her parents got her into community theater shortly thereafter. "I think you just had to recite nursery rhymes. That was your audition," she remembers bemusedly. "I played 'Mary Had a Little Lamb,' but I was very jealous of the little girl who was playing the dog."
As she grew into more mature roles, Reeser took an internship at a casting office to try to better understand all sides of the business. This was one of her most valuable bits of acting education, she says. "I saw the gears of the machine, and it gave me a lot of confidence. I find it hard to throw myself headlong into something. I gain a lot of confidence through study. So before I attempted to get a manager or agent, I wanted to know, what was this going to be like?"
Once she finally felt ready, she got the CD she was interning for to meet her at the Coffee Bean & Tea Leaf and offer up agent advice. The meeting proved to be fortuitous, but not in the way Reeser was expecting. "We were sitting there and going through managers and agents, and I was approached by a manager who said, 'I never do this, but are you an actress? You have a great look,' " she says. "I was a little suspicious at first, as young actresses in Los Angeles should be, but I had my dad come up and meet him. His name is Erik Kritzer, and he's still my manager to this day."
Reeser soon earned guest and recurring roles on such series as "Star Trek: Voyager" and "Grounded for Life," but her two-season stint on "The O.C." put her on the map. Taylor was initially slated for a four-episode arc and positioned as a scheming nemesis, but Reeser was so winning, producers ended up making her a regular. "They kept writing for me, and it ended up being one of the most wonderful jobs of my life," she says. "I saw a lot of potential with her, and I remember one episode they wrote me a breakdown; they wrote an emotional backstory for Taylor. When I read that episode, I thought that maybe they saw the potential to continue the character."
Coming off the show, says Reeser, was a bit of a challenge, but she did everything in her power to ensure that her career kept building. "I think I had a bit of trouble, never having played a character for that long, leaving her behind," she says. "A lot of Taylor's mannerisms had made their way into my life, and I actually went back to acting class and worked my ass off for a couple of years—especially for older roles, because I'd been playing teenagers for so long, it was difficult to be seen in the industry for my own age."
That certainly hasn't been a problem recently: Reeser has played successful grownup arcs on such shows as "Human Target," "Raising the Bar," and "Entourage," on which she memorably went toe to toe with Jeremy Piven's über-agent, Ari Gold. And though the "No Ordinary Family" gig is keeping her busy these days, she's still making time for study, working to complete her musical theater degree at UCLA. "I only have three more classes to complete my degree," she explains. "I left to work professionally, and I decided I want to close that chapter."
Of course, some of the best lessons she has learned on the job—like the importance of a consistently good attitude. "You're more likely to get asked back if the crew likes you, if you bring something positive to set," she says, suddenly sounding a bit Taylor-ish. "People want to work with people they like."
OUT TAKES
-Studied at the Beverly Hills Playhouse
-Is a regular fixture in Los Angeles' "The Thrilling Adventure Hour," a monthly staged-comedy show in the tradition of old-fashioned radio productions
-Is repped by The Gersh Agency