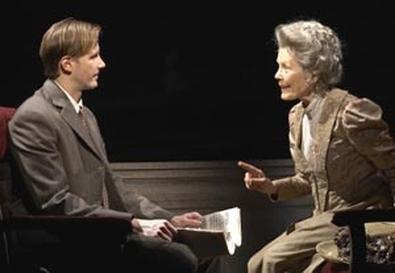 From the moment the redoubtable Pamela Payton-Wright settles into her train seat and, as an enthusiastic elderly Southern Baptist, engages the young male stranger seated before her with ladylike aggression, you know you are in the best of hands. By the time director Michael Wilson's bone-deep production of the first part of Horton Foote's "The Orphans' Home Cycle" is over, nearly three hours have passed in the blink of an eye. I wanted the second part to begin immediately.
Foote's nine-play cycle tells the story of Horace Robedaux, a young man from the fictional small town of Harrison, Texas, whom we first meet in 1902 at age 12 in "Roots in a Parched Ground." His parents are scandalously separated, his lawyer father is dying of the effects of drink and tobacco at the tender age of 32, and the two sides of his family are furiously feuding. Horace's father soon dies, and his mother remarries and moves to Houston, taking his younger sister with her but leaving him in the care of those bickering relatives. As neither his stepfather nor his mother's family sets any store by book learning, which his father revered, Horace is soon taken out of school. In "Convicts," we find him working for Soll, an eccentric plantation owner who has replaced his slaves with convict labor. In "Lily Dale," named for Horace's self-absorbed sister, the now 20-year-old youth (the above-mentioned stranger on a train) journeys to Houston, where he is finally forced to confront the long-standing reality that his stepfather wants no part of him.
Foote based his work on the life of his father, which he learned of through numerous family stories told repeatedly to him in his youth. He certainly listened well: The writing is wise, deeply observant, and impressively detailed. Deceptively small-scaled and naturalistic, the work is really epic in scope, placing the lives of these modest people against the sweeping forces of social change and the vagaries of time. There is more genuine myth evoked in a single moment of Foote's simplicity than in all the self-consciously poetic strivings of the Public Theater's current "The Brother/Sister Plays."
There's not a weak link in the 22-member company, which serves the writing beautifully under Wilson's piercingly clear-eyed direction. Dylan Riley Snyder, Henry Hodges, and Bill Heck create Horace at 12, 14, and 20, respectively, seamlessly merging their fine work into one resonant portrait of this good-natured boy bewildered by life but unwilling to be defeated by it. Virginia Kull is memorably contained yet ferocious as Horace's young mother, Corella. Annalee Jeffries, picking the character up eight years later, excels at Corella's rigorously suppressed desperation, engendered by the devil's bargain she has made in her second marriage. Jenny Dare Paulin's teenaged Lily Dale is all kindhearted blindness, unable to see beyond her own petty concerns to the hurt she inflicts so casually. James deMarse is memorably strange and wonderfully funny as the trigger-happy Soll. Hallie Foote, long a supreme interpreter of her father's work, inhabits two very different women: Horace's querulous paternal grandmother and Soll's niece, a randy alcoholic land heiress.
Jeff Cowie and David M. Barber's handsome set can switch from wide-open country spaces to a cramped interior with ease, and I loved the quilted proscenium. David C. Woolard's period costumes deftly reinforce character. Rui Rita's sensitive lighting is a mood enhancer, as are the period songs with which Foote peppers his script, augmented by John Gromada's excellent original score.
With two installments still to come, it's premature to characterize the complete work. But if they live up to the first part, what we are being served here is nothing less than an American masterwork.
Presented by Signature Theatre Company and Hartford Stage at Signature Theatre Company, 555 W. 42nd St., NYC. Nov. 19–March 28. Schedule varies. (212) 244-7529 or www.signaturetheatre.org. Casting by Telsey + Company.