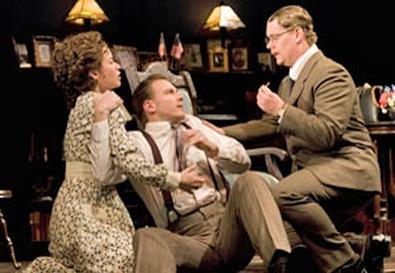 "Don't be too sure. Don't be too sure about anything, Big Horace. Not anything in this world." Horton Foote's extraordinary nine-play saga, "The Orphans' Home Cycle," ends with this plainspoken warning from one brother-in-law to another as a family sits down to dinner. Simple, perhaps even obvious words, and yet in Foote's hands they are quietly shattering, taking on mythic dimension. Now that the end of the cycle has been reached, I'm happy to say that what I hoped for after seeing Part One is true: Foote's final gift to the stage is glorious, an essential American masterwork.
The last three plays—"1918," "Cousins," and "The Death of Papa"—continue to chart the story of Horace Robedaux, taking him from age 28 to 38 as he establishes a family and a business in the fictional small town of Harrison, Texas. Much is experienced during these years, beginning with the deadly flu epidemic of 1918. Children are born and lost, financial fortunes ebb and crest, relationships wound and reward. Foote's sympathetic but rigorous eye misses nothing. He puts his characters forward without judgment, sentimentalizing nothing and letting us make what we will of the unfolding human panoply. If there's a better illustration of the adage that universality is rooted in specificity, I can't think of it.
Under director Michael Wilson's unerring eye, Bill Heck continues to lead this superb company of actors with his exemplary work as Horace, aging subtly and bringing a potent mixture of strength, uncertainty, dignity, and suppressed anger to the character. Horace's barely veiled attack on his mother in "The Death of Papa" for her essential abandonment of him as a child, prompted by her well-meaning attempt to advise him on how to raise his son, is freezing. Heck is matched by the luminous Maggie Lacey as Horace's wife, Elizabeth. Horace and Elizabeth have had to fight for their happiness, and Lacey excels at depicting Elizabeth's grit, levelheadedness, and determination, which never compromise her radiant femininity.
Hallie Foote offers her most impressive work yet as Mrs. Vaughn, Elizabeth's mother, inhabiting a host of conflicting emotions as her character deals with the attempted rehabilitation of her wastrel son, called Brother. Foote also gets a contrasting turn in "Cousins" as Lola Reeves, a high-spirited, vulgar woman whose husband has struck it rich with an oil lease. Foote makes Lola's sneering dismissal of her first visit to Europe a comic gem. James DeMarse remains invaluable as Mr. Vaughn, who finds himself considering Horace more of a son than his own. DeMarse smartly makes the self-assured, self-made man increasingly subdued, implying the guilt confounding him.
Jenny Dare Paulin observantly charts the unflattering effects of aging on Horace's shallow sister, Lily Dale, who gets older but not more mature. Annalee Jefferies makes Horace's mother even more of a mystery, powerfully mixing unquestionable love for her son with the most appalling insensitivity toward him. Virginia Kull is quietly effective as Bessie, the slow girl from next door who makes friends with Elizabeth, then Kull goes to town as Horace's Cousin Minnie, a spinster schoolteacher from Houston who can't let go of past hurts. Bryce Pinkham comes into his own as Brother Vaughn in a mercurial performance that lays bare the young man's crippling neuroses.
After attending Part Three, I read all nine plays in one sitting. Foote's careful craftsmanship leaped immediately to the fore, with the intricate interweaving of characters, stories, and themes even more apparent than when seeing three performances separated by weeks. If rumors of an extension and/or move to Broadway prove true, I'll be back to see all three in one day. That, I'm sure, will be a little taste of heaven.
Presented by Signature Theatre Company and Hartford Stage at Signature Theatre Company, 555 W. 42nd St., NYC. Jan. 26–May 8. Schedule varies. (212) 244-7529 or www.signaturetheatre.org. Casting by Telsey + Company.