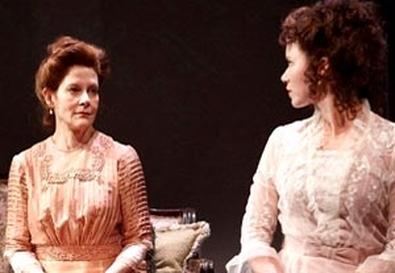 Horton Foote's epic nine-play cycle about early-20th-century life in the small fictional town of Harrison, Texas, continues on its winning way. The three plays making up Part Two follow Horace Robedaux into his early adulthood, marriage, and incipient fatherhood, and there's not a wasted moment in them. As with Part One, three hours fly by as this utterly engaging and deeply compelling work unfolds.
"The Widow Claire" picks up in 1912 on the day before Horace, now 22, is to leave for business school in Houston. He's been courting Claire, a pretty 28-year-old widow with two young children. Claire has two other suitors: the dissolute and violence-prone Val, who's a few years older than she is, and the middle-aged Ned, a traveling salesman from Galveston, whom we never meet. Claire's decision-making process constitutes the play's action.
"Courtship" jumps ahead to 1916. Horace is now a successful traveling salesman headquartered in Harrison. He's also secretly engaged to the headstrong Elizabeth Vaughn, whose prosperous father disapproves of Horace in particular and the concept of his daughters getting married in general. Ultimately, Elizabeth and Horace must elope.
"Valentine's Day" begins on Christmas Eve of 1917. Elizabeth is pregnant, she and Horace are living in a Harrison rooming house, and he works in the general store. Elizabeth's parents refuse to see or acknowledge their daughter, but thanks to Christmas and the coming child, reconciliation is in the air.
The action of each play unfolds against a rigorously unsentimental portrait of small-town life. Harrison is a hotbed of disappointed lives—alcoholics, dope fiends, unsuccessful gamblers, suicides, and such—and in "Courtship," Pamela Payton-Wright and Annalee Jeffries are incisive as Elizabeth's old-maid aunts, who blithely judge them. Devon Abner is a study in contrasts as the go-along, weak-willed friend of the abusive Val in "Claire" and as Bobby Pate, a courtly drunk who is always asking what year it is, in "Valentine's Day." Also in "Day," Lucas Caleb Rooney's cousin George Tyler is as politely depressed as his earlier Val is disturbingly intimidating. Dylan Riley Snyder, so good as the 12-year-old Horace in Part One, has a field day with Claire's truth-telling son, Buddy, who extorts nickels from his mother's suitors.
In larger roles, James DeMarse follows his terrific eccentric plantation owner in Part One with even more impressive work as Elizabeth's overbearing father. When the devout Baptist who won't let his daughters dance warns Elizabeth about the dangers of making an unhappy marriage, DeMarse makes sure that Mr. Vaughn's love and concern for his daughter shine through. His final acceptance of Horace at the end of "Valentine's Day" is beautifully understated. Virginia Kull moves from Horace's tightly coiled mother in Part One to the serene Claire. The scene in which Claire gently gauges Horace's interest in her hand without ever bringing the subject up directly is a highlight.
Hallie Foote, who created the role of Elizabeth, is now playing the character's mother. Her Mrs. Vaughn is held close to the vest, a woman very much in love with and supportive of her husband, who nevertheless knows the havoc his stance is wreaking on their daughters and so is looking for a way to ameliorate matters. As Elizabeth, the radiant Maggie Lacy creates a nuanced portrait of a young woman discovering her strength as she comes into adulthood under difficult circumstances.
At the center is Bill Heck's superb Horace. Graceful, handsome, impeccably mannered—it's clear why the ladies take to him. But Heck never forgets Horace's inner core of self-doubt, fueled in part by the pain of his mother's neglect. Darkness is always simmering under the surface.
Bring on Part Three.
Presented by Signature Theatre Company and Hartford Stage at Signature Theatre Company, 555 W. 42nd St., NYC. Dec. 17–March 28. Schedule varies. (212) 244-7529 or www.signaturetheatre.org. Casting by Telsey + Company.