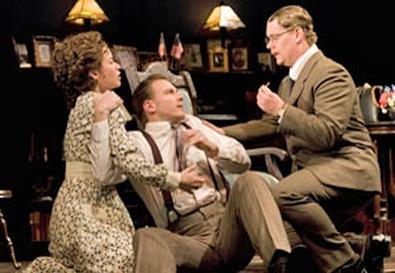 In a rare move, the New York Drama Critics Circle has issued an award for best play, but no honors for best foreign play or best musical. After three ballots, "The Orphan's Home Cycle" by the late Horton Foote emerged as the choice for best play. Runners up were "Next Fall" by Geoffrey Nauffts, "Clybourne Park" by Bruce Norris, "Circle Mirror Transformation" by Annie Baker and "In the Next Room (or the vibrator play)" by Sarah Ruhl.
Having voted an American play as the best of the season, the critic went on to consider a choice for best foreign play. After two ballots of voting, "Enron," "The Pride," "My Wonderful Day" and "When the Rain Stops Falling" had all received votes, but non received enough to take the award. The critics voted on the second ballot not to give an award.
Similarly, after two ballots there was no consensus formed over best musical, and the critics voted not to give an award. "The Scottsboro Boys" and "Bloody Bloody Andrew Jackson" both received support from the voters.
Special awards were given for Lincoln Center Festival for its visionary international programming, to playwright Annie Baker as an emerging artist for her plays "Circle Mirror Transformation" and "The Aliens," and to actor Viola Davis, currently appearing in the Broadway production of "Fences," for sustained achievement.
This year was the first since 2004 that the New York drama Critics Circle has honored only one play or musical in its core categories. Of the group's 19 members, 16 were present, two voted by proxy and one was absent. The awards will be presented Monday, May 10 at the Algonquin hotel in a special ceremony.