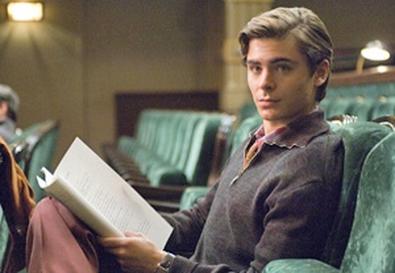 In the vein of "My Favorite Year," this historical fiction set in 1937 focuses on a wide-eyed teen named Richard (Zac Efron) who lucks into a role in the newly founded Mercury Theatre production of "Julius Caesar" directed by none other than a very young, but still bigger-than-life, Orson Welles (Christian McKay). But what sets "Me and Orson Welles" apart from a run-of-the-mill coming-of-age story is its convincing and loving look at the world of New York City theater at that time and the emergence of a major talent. Set in the week leading up to the opening of the play, this small gem of a movie, written by Holly Gent Palmo and Vince Palmo from the Robert Kaplow novel and directed by Richard Linklater, alternates between a backstage look at the creative process and an amusing love triangle among the overbearing Welles, his ambitious assistant Sonja (Claire Danes), and Richard, the love-struck, theater-struck young teen whose life will never be the same after this experience.
Although the personal story of the kid attempting to woo the older Sonja is compelling, this film is dominated by the presence of Welles in his pre-prime and the Mercury Theatre company he created. General audiences should appreciate it, but actors will devour this tale that is at its heart a love letter to the stage. The staging of "Julius Caesar" is remarkable and brilliantly pulled off.
Central to the film's success is British actor McKay, who gets every nuance of what you'd imagine Welles would be like in a performance so dead-on you would swear the ghost of Orson was lurking in the wings. McKay, discovered for the role while he was doing a one-man show Off-Broadway called "Rosebud: The Lives of Orson Welles," obviously had experience playing the great man, but McKay's achievement here is taking a theatrical approach and dialing it way down to make it work on film. With Linklater's guidance, McKay turns this Orson into a mad but human genius who knows what he wants and knows exactly how to get it. It's an extraordinary pitch-perfect interpretation that goes way beyond mere mimicry and travels into art.
Efron, shedding his "High School Musical" persona, is likable, engaging, and totally relatable as the idealistic teen who is led by his heart into a world he isn't quite ready for. Danes, as usual, delivers a believable portrait of a nice young woman with shades of gray and a desire to move her career forward with whatever it may take. A superb ensemble of stage actors is played by a superb ensemble of film actors—among them James Tupper, wonderful as Joseph Cotten; Kelly Reilly as Orson's temperamental leading lady; Ben Chaplin, terrific as a dour English actor George Coulouris; and Zoe Kazan as a precocious aspiring writer. Special kudos to Eddie Marsan, who nails the young Welles collaborator John Houseman.
Treat yourself to "Me and Orson Welles," a must-see for movie lovers and theater aficionados of every stripe.
Genre: Comedy/Drama.
Written by: Holly Gent Palmo and Vince Palmo.
Directed by: Richard Linklater. Starring: Zac Efron, Claire Danes, Christian McKay, Eddie Marsan, Zoe Kazan, Ben Chaplin, James Tupper, Kelly Reilly.