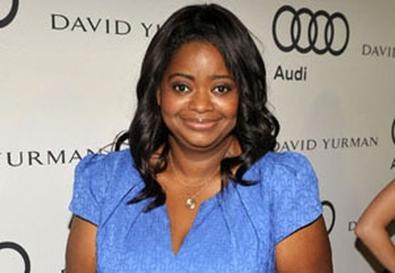 Octavia Spencer—whose turn as Minny Jackson in "The Help" has earned her rave reviews and launched her career into the stratosphere—isn't just the odds-on favorite to win the Academy Award for best supporting actress. She's also a former writer for Back Stage. In 2010, Spencer documented a year of her career as one of our Take 5 columnists. Considering the way her 2011 went—and that her 2012 is going—we thought now might be a good time to revisit some of her writing from that transformational year.
April 6, 2010
On 'The Help'
About 15 years ago, I was working as a casting assistant on "A Time to Kill." I was bored to death, sitting behind a desk, when in walked this gorgeous office P.A. named Tate Taylor.…
Fast-forward a few years, to a vacation in New Orleans, when Tate introduced Brunson [Green] and me to his childhood friend Kathryn Stockett. I liked her immediately. She was soft-spoken, demure, but fun-loving. The other plus: She had an infant daughter, and I love kids. But Kathryn lost me for a moment when she said she was about to write a novel. I silently dismissed it, thinking, "Who isn't?" Outwardly, I praised her and promised to read it when it was finished, believing that day would never come.
A couple of years passed. I was on location in Montana shooting a film that Tate was directing and Brunson producing (our fourth together). Kathryn came to visit and, unbeknownst to me, collect on that promise. We were sitting high above Glacier Park when she told me she'd finished the book and had based one of the characters on me. I froze. I had no idea how to respond. After an immeasurable pause, I finally agreed—again—to read it. This time through clenched teeth. I thought, "What if I hate it?," but decided to be honest with her at all costs. Needless to say, I loved "The Help."
This time last year, I was doing readings with Kathryn on the first leg of her tour one month after the book was published. Since then it has been a mainstay on the New York Times bestseller list, earning accolades and a multitude of fans. Now, the secret is out: It is being made into a film by DreamWorks, with Tate Taylor directing and Brunson Green producing. I feel honored that Tate and Brunson have been my companions on this tumultuous artistic road.
May 13, 2010
While working with acting coach Jemal McNeil, I've been lucky to be part of the casting process for "The Help," reading opposite various actors as I await the close of my own deal. I found it quite rewarding and walked away with wonderful treats for my effort. The outcome: I was smooched on the neck by Kellan Lutz and given an engagement ring by Milo Ventimiglia—all within the world of the characters, mind you. But I'm still waiting for my deal to close.
Aug. 5, 2010
July finds me in a quandary: how not to bore you with my current project, "The Help," as it will pervade every aspect of my life for the next few months. However, I will do my best to convey the sights and sounds of the Mississippi Delta as I experience them.
Greenwood. My first night in town, I get a taste of the old South: cicadas, mosquitoes, good friends, and fine cuisine. [Screenwriter-director Tate Taylor's] mom, Locke Barkley, prepares a home-cooked meal for the cast and crew—including speckled butter beans, creamed corn, rice, stewed pork chops, lady peas, fried okra, grilled chicken, fresh tomatoes, deviled eggs, broccoli salad, blueberry cobbler à la mode, and sweet tea. Delicious!
Sept. 2, 2010
At times I wish lunch was all I had to think about. But it's not. As I research the civil rights movement, I am haunted by the ghosts of Mississippi. Don't get me wrong; it isn't the only state that has those skeletons in its closet. However, it happens to be where this story takes place. So here is where I am: Mississippi circa 1962. Emotionally, it's a dark, somber place. Violent. I cringe when people try to tell me the way it was—their version of the story. As if the historians have somehow gotten it all wrong. I drink it all in but remind myself to save any outbursts for the screen.
Oct. 8, 2010
Working alongside my friends Tate Taylor and Brunson Green, and seeing them at their best, warmed my heart. Getting the opportunity to work with Jessica Chastain, Viola Davis, Aunjanue Ellis, Bryce Dallas Howard, Allison Janney, Ahna O'Reilly, Emma Stone, Mary Steenburgen, and my idol Sissy Spacek changed my life. Suffice it to say that I now understand what it means to truly trust and connect with your partner, then soar through a scene. It's liberating.
As I enter the next phase of my life and, hopefully, my career, I'm impressed that by working with these amazing actors and taking this journey through time, I'm left with one of life's great lessons: Whether the glass is half full or half empty is irrelevant; it's that I own the glass. Minny would be proud.
Dec. 3, 2010
Writing this article each month has been such a highlight. I count it among the things I'm most grateful for. You see, writing doesn't come easy for me. I actually hate it. I hate the extreme solitude, and the discipline it takes to sit down and face the blank page. By having a deadline each month, I'm forced to take the time to put ideas into practice and exercise self-discipline.
I'm grateful that change has made it to the White House, and not for the obvious reason but because the glass ceiling has been broken. All children—whether African, Latin, Asian, or Native American—can dare to dream that they, too, can hold that office.
I'm grateful that a dear friend taught me the phrase "the year of yes" I'm learning to get out of my comfort zone and take on things that are bit more challenging. I'm grateful for assembling an amazing team to steer me professionally.
Most important, I'm grateful for life's lessons and blessings and all of the opportunities that this past year presented for spiritual, professional, and personal growth.