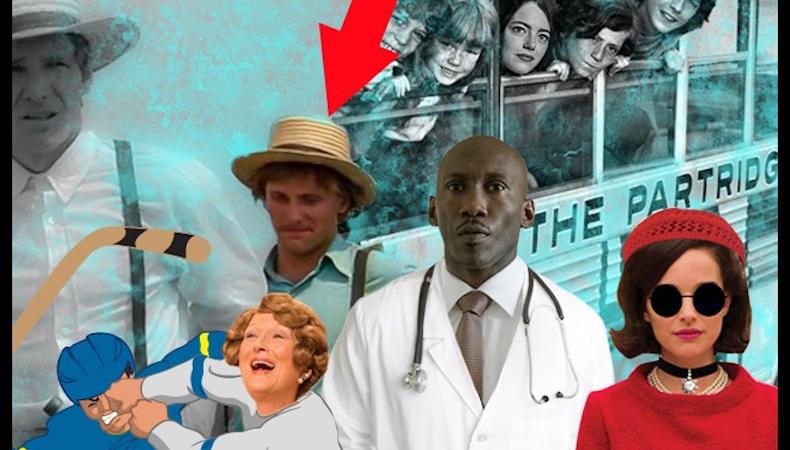 The 89th annual Academy Awards, to be hosted by Jimmy Kimmel Feb. 26, will honor 20 acting nominees who gave some of the best performances of the year. Ever wonder how such on-screen talents got their big break? As in years past, we're revealing the first credited on-camera roles of 2017's leading actor contenders—because everybody's gotta start somewhere!
READ: How to Become an Actor
Best Actress in a Leading Role
Isabelle Huppert, "Elle"
Despite many French awards, "Elle" marks Huppert's first Oscar nod. Mon dieu! The 1971 TV movie "Le prussien" was the first of her many such projects, followed by the big-screen features that have made her a cinematic legend.
Ruth Negga, "Loving"
Plenty of performers got their start in soap operas. Just ask first-time nominee Negga, who first took to the screen back in 2004 in an episode of "Doctors," the still-running British medical series.
Natalie Portman, "Jackie"
Of all the nominees in this list, Portman had perhaps the most promising on-camera debut. At age 12, her breakout performance as the hitman-in-training of Luc Besson's 1994 crime thriller "Léon: The Professional" predicted the sensational, Oscar-winning career to come.
Emma Stone, "La La Land"
Although "Superbad" marked her breakthrough on the big screen, this star's camera debut was in the 2005 TV movie "The New Partridge Family," where she played Laurie Partridge under her given name, Emily Stone!
Meryl Streep, "Florence Foster Jenkins"
This is a record 20th nomination for Hollywood's reigning queen, who already has three trophies. Will this be the year Streep ties with Katharine Hepburn for most acting Oscars? Her debut occurred in 1977 with the TV movie "The Deadliest Season," although she's also listed as a voice in the animated "Everybody Rides the Carousel."
Best Actor in a Leading Role
Casey Affleck, "Manchester by the Sea"
The TV adaptation of Lanford Wilson's "Lemon Sky," broadcast in 1988, saw Affleck making his film debut playing the stepbrother of Kevin Bacon's character. The actor sure has come a long way since!
Andrew Garfield, "Hacksaw Ridge"
Garfield spent most of his childhood in the U.K. studying theater at a London university, so his success is anything but mumbo jumbo. He did, however, make his first appearance in front of a camera in the 2005 British short film "Mumbo Jumbo."
Ryan Gosling, "La La Land"
Few actors can claim as sensational a screen debut as Gosling, who joined the Disney Channel's famed variety show "The Mickey Mouse Club" in 1993, working on his singing, dancing, and comedy chops in front of a huge TV audience, all of which came in handy for "La La Land."
Viggo Mortensen, "Captain Fantastic"
Although his first official on-screen credit was the 1985 feature film "Witness," this Danish-American nominee technically first appeared in Woody Allen's "The Purple Rose of Cairo"—a movie from which he was subsequently cut. It happens!
Denzel Washington, "Fences"
Kudos to the casting director who put this star in his first project. In "Wilma," the 1977 made-for-TV story of Olympian track sprinter Wilma Rudolph, Washington played Robert Eldridge, her husband-to-be at age 18. Could he now win a third Academy Award for "Fences"?
READ: The Continued Education of Viola Davis and Denzel Washington
Best Actress in a Supporting Role
Viola Davis, "Fences"
She appeared as "Nurse" in Jon Robin Baitz's 1997 screen adaptation of his play "The Substance of Fire," but Davis' first time on camera was in a 1996 episode of "NYPD Blue," where she appeared as "Woman." Working actors, take note: Davis had to start out in roles with few lines, steadily working her way up to named characters—and eventually, the first black female actor with three Oscar nods.
Naomie Harris, "Moonlight"
In 1987, long before her gut-wrenching performance in "Moonlight," this talented British star played a character named Joyce in 12 episodes of BBC children's series "Simon and the Witch." And no, she did not play the witch!
Nicole Kidman, "Lion"
So many of this year's Oscars-nominated performers got their start in TV movies, and Kidman is no exception. She began acting in her native Australia with a bit part in 1983's "Skin Deep," a story of bitchiness and fabulousness in the cutthroat fashion industry.
Octavia Spencer, "Hidden Figures"
Spencer worked for years (and years and years) in bit parts before her award-winning role in "The Help" made her a star. She first appeared in the 1996 film version of John Grisham's "A Time to Kill," which starred other eventual Oscar winners: Sandra Bullock, Matthew McConaughey, and Kevin Spacey.
Michelle Williams, "Manchester by the Sea"
Nominated a fourth time for "Manchester by the Sea," this actor coincidentally also made her screen debut by the sea in "Baywatch"! Williams began developing her impressive acting chops in a 1993 episode titled "Race Against Times: Part 1."
Best Actor in a Supporting Role
Mahershala Ali, "Moonlight"
Before this breakthrough year put Ali on the map, the actor paid his dues in plenty of TV shows, films, and plays, and got his start in the hit series "Crossing Jordan." He appeared as Dr. Trey Sanders in 19 episodes from 2001 to 2002, including the pilot, credited with his full first name: Mahershalalhashbaz.
Jeff Bridges, "Hell or High Water"
After a whopping seven Oscar nods and one win, there seems to be little this member of Hollywood royalty can't do. Not many other stars can claim to have launched their careers as early as Bridges, who appeared in the 1951 film "The Company She Keeps" at the age of one! No wonder he's so good.
Lucas Hedges, "Manchester by the Sea"
Known for breaking out in "Moonrise Kingdom," "The Slap," and now this Oscar-nominated performance, Hedges earned his first screen credit at age 10 in the 2007 Steve Carell film "Dan in Real Life." The young actor had one line...and it was cut!
Dev Patel, "Lion"
This first-time Academy Award nominee rose to prominence with the award-winning "Slumdog Millionaire," although his actual screen debut was playing Anwar Kharral in the hit British series "Skins" from 2007 to 2008. Patel, who had zero professional experience, admitted he had no idea what to do on set. Actors: can you relate?
Michael Shannon, "Nocturnal Animals"
Two-time nominee Shannon has a prolific film career—but considering his talent, he's only getting started. The actor's on-camera beginnings were in TV movies; in "Overexposed," he played a character referred to only as "young man."
Ready to launch your Oscar-winning career? Check out our film audition listings! And for acting advice, visit Backstage's YouTube channel: