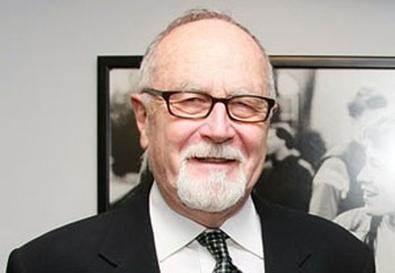 Gilbert Cates, an internationally recognized leader in television, film, and theater, has died. He was 77.
Cates was the producing director of the Geffen Playhouse in Los Angeles. He was a professor at UCLA, serving as dean of the School of Theater, Film and Television (which he founded) from 1990 through 1998. He produced 14 Academy Awards shows, the last in 2008, garnering 84 Emmy nominations and 17 Emmy Awards over the years. He served two terms as president of the Directors Guild of America.
His film directing credits include "I Never Sang for My Father" (which he produced) and "Summer Wishes, Winter Dreams," each film earning two Oscar nominations for its actors. His credits for acting, directing, and producing in theater, film, and television number in the many hundreds.
In 2009, Back Stage presented Cates with a Garland Award for lifetime achievement. To date he remains the only person so recognized by Back Stage.
The young Cates had been a fencer at DeWitt Clinton High School in the Bronx, N.Y. "When I got to Syracuse University," he told Back Stage in a 2009 interview in connection with the Garland Awards, "the first week I was there, the drama department had announced they were doing 'Richard III,' and they looked for a fencer who could help choreograph the battle scene between Richard and Richmond. I got on the fencing team the first week I was there, because I was all right at the sport, and then this call came to find a choreographer, and I came back [home] Thanksgiving and told my astonished father I was not only going to be a doctor but I was going to be a director, which made me a big hit in the family for a while. And that's how I started. But actually I majored in theater at Syracuse. I never had a desire to do anything else but direct in the theater."
Cates later earned a master's degree after writing his dissertation on the European circus of 1964. He began working as a page and tour guide at various networks. But Cates loved to credit Back Stage with his professional start: "The first job I got—which was as the assistant stage manager of a show called 'Shinbone Alley,' with Eartha Kitt and Eddie Bracken, that played at the Ambassador Theatre, I think—I read about the notice of that job in Back Stage."
Over the years, Cates looked for bravery in his actors, particularly in theater. He said, "Great acting is a combination not only of experience and talent but also a quality of risk-taking, of jumping off in the deep end of the pool, not knowing quite whether you can swim or not. I can't imagine anyone playing King Lear, no matter how gifted you are, who's not frightened at the thought of doing that role, the size of it, the dimension of it, the length of it. So you need courage to be an actor—more courage to be an actor, frankly, than anything else in the theater other than being a writer."
Teaching remained Cates' joy and mandate over the years. "I love [students] because they bring a sense of energy and a sense of discovery and openness that you don't find with people who have been doing it for 10 or 20 or 30 years," he said. "I try to encourage them to deal with the basics. If something is not working, invariably it's not working for one of three reasons: Either it's the exposition, which means you don't care about it; or it's the conflict, which means there's no conflict to keep you connected; or there's no resolution, there's no ending to it. It doesn't have to be in that order, but everything you think of, everything you understand in narrative form—whether it's film, theater, television, ballet, you name it—other than the talent or the execution of it, you need that exposition. Who are the people? Why do we care about them? You need the conflict, you have to understand it, and you need a resolution. Ninety-nine percent of the time, when something doesn't work, it's because it's missing one of those three things."
Cates was a gracious presence at Geffen Playhouse opening nights, as he warmly greeted old friends and met new ones. He was also a good friend to Back Stage readers, contributing essays and his video presence to offer perspective and advice to all actors. His devotion to making theater in a film-and-television town was summed up best when he told Back Stage, "It's our responsibility to encourage theater people where we live—to make the wine where it's drunk."