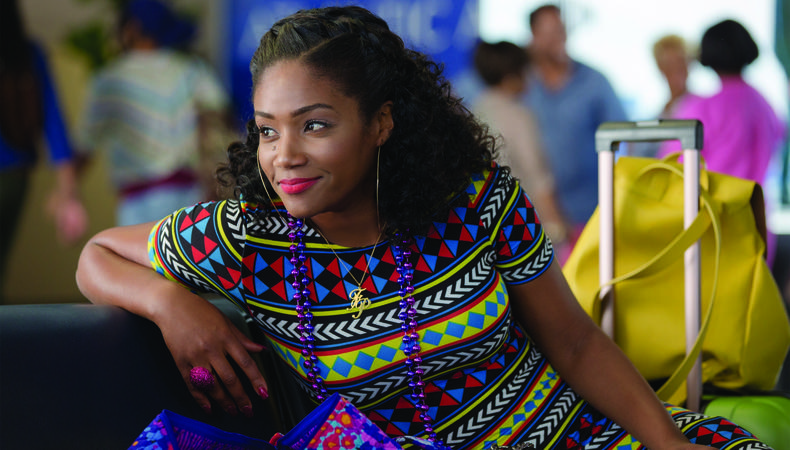 Mere months ago, the Academy of Motion Picture Arts and Sciences bucked a two-year trend by remembering that non-white performers exist. After two straight classes of nothing but white acting nominees and plenty of controversy, Academy voters recognized six black actors and one Indian-British actor with Oscar nominations. That crop tied the record for most nominees of color in a single year. Mahershala Ali and Viola Davis won Oscars for their work in "Moonlight" and "Fences," respectively, while the former film won Best Picture.
In terms of Hollywood and its premier awards voting body reflecting the diversity of its audiences at the highest level, all, seemingly, was well.
Or was it? Two consecutive years of Oscar pools with zero nominees of color wasn't the disease; it was a symptom. It was representative of a greater systematic trend in Hollywood: few opportunities for non-white filmmakers and stars. For many, the problem is both historical and personal. As Asian-American star Jon Cho put it to Backstage, "Sometimes I feel like I don't dream big enough.... I want to do all the actor-y stuff. I'm trying to think of these things that I've trained myself not to think about...because of my color."
April Reign, creator of the #OscarsSoWhite hashtag during those 2015 and 2016 races, said of her movement, "There's been a dearth of nominations and support of people from other traditionally under-represented communities." The two-year streak was merely an underlining on an existing problem. Thus, the public outcry following two all-white acting slates, as Reign's online awareness campaign made clear, spurred larger conversations about diversity in the industry.
Following the growing controversy, Academy president Cheryl Boone Isaacs (this year succeeded by John Bailey) led a radical change in the organization's membership rules and subsequently adjusted its leadership, all to avoid future years of little to no racially diverse on-screen representation at the Oscars.
READ: Getting Candid About Inclusion With Some of Broadway's Most Powerful Players
But such a year could repeat itself surprisingly soon. If the 2017 Academy Award nominations go as some expect, we could be looking at another instance of #OscarsSoWhite—and another round of sharpened focus on Hollywood's diversity problems.
Let's start with this year's potential non-white nominees. Based on the major studios' current awards campaigns, the actors of color who have a shot at acting nominations include Denzel Washington (for Sony's "Roman Israel, Esq."), Octavia Spencer (Fox Searchlight Pictures' "The Shape of Water"), Idris Elba (STX's "Molly's Game"), Hong Chau (Paramount Pictures' "Downsizing"), Tiffany Haddish (Universal Studios' "Girls Trip"), and Jason Mitchell and Mary J. Blige (Netflix's "Mudbound").
The last two times the Academy failed to nominate a single actor of color, one defensive response has proven consistent: The claim that there simply weren't enough actors of color on screen to gain recognition. It's been a dismissive excuse every time, but this year in particular, as the list of stars above suggests, there are plenty of performances worth acknowledging.
The problem isn't just what's available to Academy voters—it's what they perceive as worthy. Take, for example, Haddish's performance in "Girls Trip." Her work as party girl Dina is exuberant, hilarious, never devolving into caricature. She finds the full characterization in what other actors might have seen as a stock sidekick role. It's very similar to Melissa McCarthy's Oscar-nominated work in "Bridesmaids." Yet unless the tide changes, Haddish's work may be ignored in favor of more traditionally Oscar-friendly fare (period dramas, tragic or heavy material) from, say, supporting actress contenders Kristin Scott Thomas in Focus Features' "Darkest Hour" and Melissa Leo in Sony Pictures Classics' "Novitiate." Her role may resemble McCarthy's, but her Oscar luck is looking much worse.
If none of the actors in the awards conversation listed above achieve Academy notice, however, it's not the end of the world—in fact, a total whiteout could, in the long run, inspire more progressive change in the industry.
Since two straight years of zero-for-20 made the Academy switch into PR crisis mode, a third year would have all of Hollywood calling a code red. It would spark conversation and sound the alarm after everyone assumed the trend was over for good—whereas if one or two actors of color are nominated, the problem wouldn't become publicly embarrassing. A single black, Asian, or LGBT nominee in 2017 could give defenders of the Academy something to point to as a reason why the problem isn't dire.
Another #OscarsSoWhite would cause the industry at large to reflect, once again, on the kinds of movies it's making. At a time when entertainment is already changing in many ways, this is a net-positive for actors of all races and backgrounds. More unconventional stories, told from typically ignored perspectives, could provide the opportunities that stars like Cho have largely been denied. A third all-white acting nominee lineup could paradoxically create more opportunities for performers and filmmakers of color.
That step backwards would be a shock—but also a massive shock to the industry's system, leading to major sea changes. It's to early to tell at this point, but there's no denying the 2017 Oscar race is a turning point. Watch carefully how Hollywood reacts to the eventual nominations; if they're content to rest on one or two performers of color nominated, that's a sign that change is needed more than ever.
Check out Backstage's film audition listings!