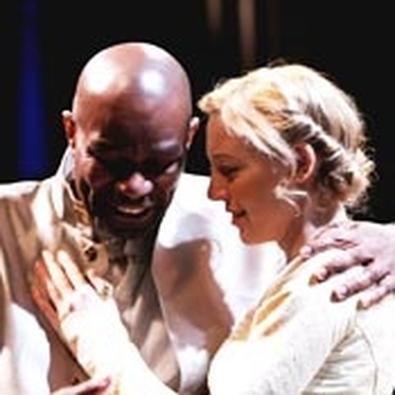 Clocking in at nearly three hours, director Arin Arbus' stuffy staging of Othello only sparks to life during its last 60 minutes, when leading players John Douglas Thompson as Othello and Juliet Rylance as Desdemona let go with Shakespeare's passion and poetry, and the result is astonishing.
Until these moments, though, Arbus' production unfolds with an uninspired adequacy that delivers the play dutifully but lifelessly. Ned Eisenberg's Iago, scheming to destroy Othello in revenge for the slight of having been passed over for promotion within the Venetian army, is almost infinitesimally subtle in his duplicity. In contrast to the deep love that Othello and Desdemona feel for one another, directors often underscore the acrimony between Iago and his wife, Emilia (played thoughtfully by Kate Forbes), but not in Arbus' staging, where the two seem only barely acquainted with one another.
Two secondary performances spark the production from time to time. Early on, Graham Winton brings fire to the role of Brabantio, Desdemona's father. (In a confusing piece of double casting, Winton also plays a close relative to this character.) Throughout, Lucas Hall brings a charming mercurial quality to the role of Cassio, Othello's lieutenant, who becomes part of Iago's scheming.
Before Iago's plots reach their pinnacle, Thompson's performance gives glimmers of the power that he unleashes during the play's final moments, and Rylance, who brings intelligent warmth to Desdemona and who looks ravishing in a simple ecru Edwardian gown from costume designer Miranda Hoffman, also sparkles with hints of what's to come. But unfortunately, it's not enough to enliven the proceedings, which seem even stodgier on Peter Ksander's uninspired spare set, two Moorish doors flanked by black panels.
This Othello may end with a satisfying explosion, but until then it's a less than electrifying experience.
Presented by Theatre for a New Audience at the Duke on 42nd Street, 229 W. 42nd Street, NYC. Feb. 22-March. 7. Wed. and Fri., 7 p.m.; Sat., 2 and 7 p.m. (646) 223-3010 or www.dukeon42nd.org. Casting by Deborah Brown.