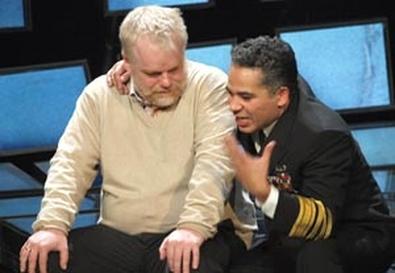 Have you ever tried to recline or nuzzle with your partner on a bed made of TV monitors? Or deliver a Shakespearean monologue on a cell phone? Or play a military governor one minute and a prostitute the next? Well, these are the bizarre demands placed on the cast of Peter Sellars' baffling, high-concept staging of Shakespeare's "Othello," a co-production of the Public Theater and LAByrinth Theater Company.
Sellars seeks to equate Othello with Obama and presents this tale of racial prejudice and consuming jealousy in post-racial terms. Performed by a cast of African-American, Latino, and Caucasian actors on a nearly bare stage—the only major set piece is designer Gregor Holzinger's king-size TV-screen bed—this four-hour production is freighted with so much extra baggage, the central power struggle between the Moor and his scheming subordinate Iago is obscured.
Among the conceits imposed by the director is an affair between Othello and Emilia, Iago's wife. There is a reference to it in the script, but it's usually played as a paranoid fantasy of Iago. Sellars sticks the tryst into the middle of the action without integrating it into the rest of his staging. In another weird choice, Montano, a soldier of Cypress, and Bianca, the lady of the evening enamored of Cassio, are combined into a confusing composite figure, the military governor Othello replaces—who's also given the lines of Desdemona's jester, a character who is almost always cut. As if that weren't enough, distracting abstract images are displayed almost constantly on those TV screens.
All this extraneous nonsense could be dismissed if there were a strong lead, but John Ortiz's Othello is more a second lieutenant than a general. He lacks panache and the passion to convince us his Moor is capable of tragic obsession with his wife's imagined infidelity. His hysteria seems forced, and he reaches its height in the middle of this long show, appearing all tuckered out by the climactic strangulation scene.
Philip Seymour Hoffman's Iago is the center of the production and a much more complex creation. The Oscar-winning actor takes many risks here; unfortunately, they don't all pay off. His most successful ploy is to play this conniving schemer as a self-pitying sociopath who feels perfectly justified in his evil actions. Hoffman comes up short when he gives the same readings to Iago's many soliloquies—it's the third longest role in Shakespeare—and his quiet openings followed by sudden shouts become repetitive.
The women deliver more-consistent work. Jessica Chastain's gentle Desdemona, Liza Colon-Zayas' brooding Emilia, and Saidah Arrika Ekulona's intense Bianca, the composite role, make this seemingly endless slog worth sitting through. Ekulona, who was brilliant in last season's "Ruined," is to be commended for making sense of her mishmash of a part. Would that the director had done the same.
Presented by the Public Theater and LAByrinth Theater Company in association with Weiner Festwochen, Vienna, and Schauspielhaus Bochum and by special arrangement with NYU Skirball Center at NYU Skirball Center, 566 LaGuardia Place, NYC. Sept. 27
–
Oct. 4. Tue
.–
Fri
.,
7 p.m
.;
Sat
.,
2 and 8 p.m
.;
Sun
.,
5 p.m
. (
212
)
352-3101
, (
866
)
811-4111, or www.skirballcenter.nyu.edu. Casting by Jordan Thaler and Heidi Griffiths
.