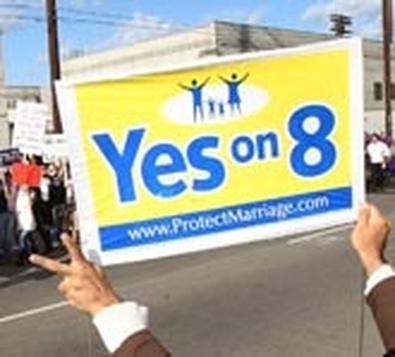 Susan Egan has played many parts in her long showbiz career. She was the original Belle in Broadway's Beauty and the Beast, earning Tony and Drama Desk award nominations. She replaced Sutton Foster as the lead in the musical Thoroughly Modern Millie and was one of several actors who played Sally Bowles in the longest-running Broadway production of Cabaret.
But last week, Egan found herself in a role she never thought she would land: political activist. It began when she received a mass email from a friend, Hairspray composer-lyricist Marc Shaiman, informing her that the artistic director of Sacramento's California Musical Theatre, Scott Eckern, had donated $1,000 to support Proposition 8, a referendum to ban same-sex marriage in California. Like many Americans, Egan was already hurt and angry that the measure passed Nov. 4 with 52 percent of the vote. In his email, Shaiman said he would "never allow anything I write to play [CMT] and will encourage my colleagues to consider doing the same." The national tour of Hairspray played CMT in August.
"I thought that was a very brave stand that he took," Egan said of Shaiman. "I just wanted to say, 'Okay, I stand with you in solidarity.'"
Egan, who met Eckern when she appeared in a CMT production of Baby in 1993, sent an email Nov. 10 to a handful of friends in which she relayed Shaiman's information and her intention to boycott the theatre. She wrote of Eckern, "I think at this point I shall do my best to 'out' him and any others like him.... In support of my gay and lesbian friends, I find it a travesty that the entire arts community is not standing in solidarity for equal rights. Shame on Scott."
"I was just so saddened by his actions," Egan told Back Stage. "They do seem incongruous to me, to work alongside gays and lesbians who contribute so much to his productions and his well-being."
Unbeknownst to Egan, her email quickly spread across the Internet, sparking outrage on countless blogs and message boards. Flooded with calls and emails, CMT issued a statement Nov. 11 distancing itself from Eckern's action. "We have a long history of appreciation for the LGBT community and are truly grateful for their long-standing support," wrote a theatre representative. "We acknowledge the dedication, patronage, and hard work of the many members of the LGBT community who have played a crucial role in our success."
Eckern, a member of the Church of Jesus Christ of Latter-day Saints, resigned the next day. "I am disappointed that my personal convictions have cost me the opportunity to do what I love the most, which is to continue enriching the Sacramento arts and theatre community," he said in a written statement.
Eckern and CMT representatives declined to comment for Back Stage.
Boycott or Witch-Hunt?
The proposed boycott of CMT was just the first of several actions taken by gay activists against individuals and organizations that gave money to back Prop 8. Tens of thousands in California, Washington state, and New York have staged protests against the Mormon church, which by one estimate raised $15 million to support the ballot measure. Last week Angelenos began picketing the popular Hollywood restaurant El Coyote, whose co-owner Marjorie Christoffersen gave $100 to the Prop 8 support group ProtectMarriage.com. Bloggers and activists are also calling for a boycott of the Sundance Film Festival in order to withhold income from Utah, where the festival is held, whose population is about 60 percent Mormon. A boycott of Cinemark Theatres, whose chief executive, Alan Stock, contributed nearly $10,000 to Yes on 8, could also hurt Sundance, which uses Cinemark screens.
Lists of individuals who gave to pro- and anti-Prop 8 organizations are available on the websites of the Los Angeles Times and the San Francisco Chronicle and on new sites created by activists, such as AntiGayBlacklist.com. State election law requires political candidates and campaigns to publicly report contributions of $100 or more; donors must also list their occupation and employer.
"It's all that some people can do," Shaiman said of the boycotts and protests. "You can raise your voice, and you can choose not to spend your money somewhere, which is completely our right."
San Francisco-based playwright Kathryn McCarty said Egan's email inspired her to search an online donor database for names of her friends and colleagues in the theatre community. She discovered that the owner of a prominent San Francisco theatre donated money to support Prop 8 but did not divulge the name. "I wouldn't be putting my money toward something that supported the Ku Klux Klan," McCarty said. "But I don't think it's appropriate to witch-hunt."
Said Egan, "I think if people use their dollars the way they want to use them to support their causes, then — as Scott did — they may.... You don't want any percentage of that dollar you're spending to go toward something you don't believe in. How else can we do it? It is a good way and a peaceful way to go about it."
The Mormon church and other proponents of Prop 8 have mostly remained silent. Ron Prentice of ProtectMarriage.com said in a written statement, "Our coalition stands together in solidarity with those whose property and rights are being attacked for the simple act of supporting traditional marriage. No matter your opinion of Proposition 8, we should all agree that it is wrong to intimidate and harass churches, businesses, and individuals for participating in the democratic process." Representatives of ProtectMarriage.com declined to comment for Back Stage.
Unifying a Community
Despite having received hate mail in the past few days, Egan doesn't regret writing her email. But she did not intend to force Eckern to resign. "I don't think it was anybody's goal," she said. "I'm really sad. I think Scott is a good man. I think he genuinely cares about the theatre. I think he's good at his job." She added that had he not resigned, however, "I know there are people who would not have been satisfied."
Shaiman said he was also saddened by Eckern's resignation, but he and Egan knew it was a possibility: "I was really just looking to shame him by saying, 'If you care to, why don't you give him the same call like I just did and ask this one man who is working in a theatre...how he could have done this.'... I don't know what a happier ending could have been." The Tony-winning songwriter said he called CMT to suggest the theatre hold a series of concerts whose proceeds would be donated to gay-rights organizations fighting Prop 8, but theatre representatives have not returned his call.
Like many protesting the passage of Prop 8, Egan and Shaiman are concerned that the boycotts and protests could get out of hand or send the wrong message. "The word McCarthyism keeps coming up," Shaiman said. "I understand the difference between what I did and what others are doing and what Joseph McCarthy did. I can rest pretty easy about that, because I know it's not true. But it's a very slippery slope."
Egan pointed out that "outing" Eckern has at least created a dialogue: "It's unified the theatre community for the most part, in a way that can be proactive if used wisely.... But I think you need to wave that wand carefully. That's why I urge compassion."
Write to the author at lhorwitch@backstage.com.