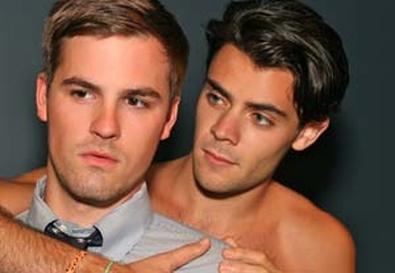 Writer-director Tim Aumiller's bare-bones staging of his play "Over and Over" is only partly successful. The story of Jimmie (Tanner Cohen) and Mitchell (Andy Ridings), two clandestine lovers who meet to argue about their tortured eight-year relationship and Mitchell's girlfriend, the play manages to avoid the usual pitfalls of gay theater. Sure, Jimmie spends almost the entire play in his underwear, and Mitchell is angry and repressed, but Aumiller finds new shadings to their stories, notably in a monologue from Mitchell about a self-destructive night out.
Where the show fails is in its depiction of languorous soap-opera star Jimmie, both in Aumiller's writing and Cohen's performance. Delivering every line for the show's 70 minutes in a languidly bitchy drawl, Cohen stops being amusing and instead turns monotonous. Mitchell bares his secrets, but Jimmie's sole response is to dash off a quip. Too bad his one-liners aren't as interesting as Aumiller's plot.
Presented by No Hope Productions as part of the New York International Fringe Festival
at the Studio @ Cherry Lane Theatre, 38 Commerce St., NYC. Aug. 18–28. Remaining performances: Tue., Aug. 24, 3:45 p.m.; Wed., Aug. 25, 9:45 p.m.; Fri., Aug. 27, 7:45 p.m.; Sat., Aug. 28, 3:30 p.m. (866) 468-7619 or www.fringenyc.org. Casting by John Ort.