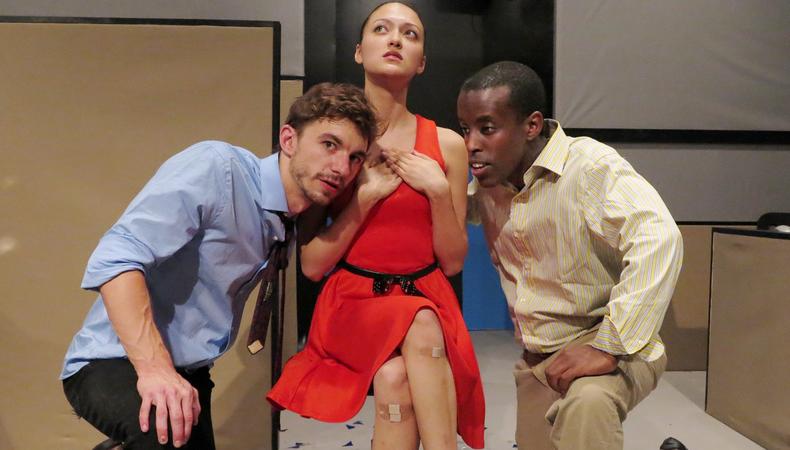 Adam Szymkowicz is a prolific playwright who is also known for his blog, where over the past four years he has posted interviews with nearly 500 fellow playwrights and where he complains about how difficult it is to make a living writing plays. His financial struggles turn out to be to our advantage, for his experiences as an office temp have inspired him to write "The Why Overhead," a busy comedy about the lives, loves, and terrors at a customer call center.
Office supervisor Karen (Heather Hollingsworth) wakes up one morning overwhelmed by "the why hanging over everything I do," and, as she tells her dog (the convincingly caninelike Larry Phillips), she decides that she will do nothing from now on without a good reason. This means she will no longer show up at the office, and she and her dog set off to become hobos. "There will be new smells," the dog says enthusiastically.
Left without a leader, the office workers split into amusing subplots. Annie (Susan Louise O'Connor) and Nigel (Jeffrey Emerson) begin a feud over food left too long in the refrigerator that escalates into glued keyboards and water-gun fights. Sid (Matthew Murumba) and Allan (Scott Thomas) have a different sort of office rivalry, competing for the affection of Jessica (Alexandra Hellquist).
Meanwhile, Sam (Rowan Michael Meyer) has developed a crush on one of the call-center customers, Violet (Cotton Wright). The feeling is mutual. "Did you ever think you'd get along so well with someone calling in one day with a warranty question?" she asks him, though she resists his pressure to meet in person. We also see Donald (David Bennett), whom Karen laid off, talking of revenge to his stuffed dead cat in the least successful plot thread.
These stories, told in progressive alternating scenes, all come together in an ending that offers some satisfaction in its surprises and symmetries but is too pat. It's as if the playwright worried that our attention would wander with a less tightly structured, more realistically random look at an everyday office.
"The Why Overhead" entertains because of some fine and funny lines, delivered by director Matthew J. Nichols' well-cast 12-member ensemble in bursts of inspired dialogue and in soaring, silly monologues that are near-poetic comic riffs, including Nigel talking about all the ways he is great ("I jumped out of airplanes; I drove a motorcycle; I am very hairy") and Jessica remembering all the things that her brother dropped on her head when she was a child ("Gummi Bears, Ping-Pong balls, chocolate chips, our goldfish"). We even get a terrific song about hobos. Some individual performers might be more effective than others, but I resist singling them out because—unlike the characters in the play—they all work so well together.
Presented by Zootopia Theatre Co. at Access Theatre, 380 Broadway, NYC. Sept. 9–23. Wed.–Sat., 8 p.m.; Sun., 2 p.m. (800) 838-3006, www.brownpapertickets.com, or www.zootopiatheatre.org.
Critic's Score: B+