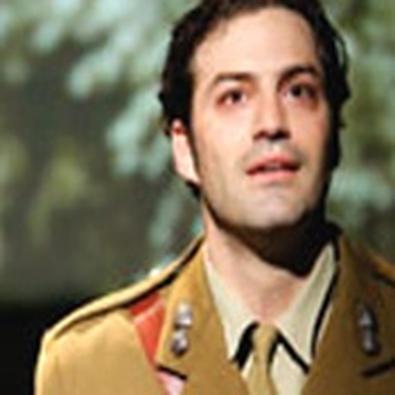 The first thing you should know about this play by Canadian Stephen Massicotte is that it glows with an uncommon intelligence.
Here being given its American premiere by Urban Stages, The Oxford Roof Climber's Rebellion is the fictionalized tale of a true event: the meeting of poet Robert Graves (Stafford Clark-Price) and T.E. Lawrence (Dylan Chalfy) — yes, Lawrence of Arabia — at Oxford University in 1920. The celebrated Lawrence has been ejected from the Paris peace talks of 1919, and Graves has returned from the trenches of France wounded in body and soul. Both men are haunted by their recent experiences and immediately recognize each other's pain as they dream of a new and better world. Lawrence names them "a pair of Adams." The two find relief in pranks they play against the university establishment, represented by Lord Curzon (George Morfogen), who sees in Lawrence's humorous rebellion a much darker significance. Also observing this growing friendship is Lawrence's old batman, Jack (Tom Cleary), and, with mounting alarm, Graves' feminist wife, Nancy Nicholson (Erin Moon). Most appropriately in a play about war, the drama evolves into a series of battles. Initially Curzon is the common enemy, but gradually each pairing turns on the other until finally we have Graves versus Lawrence.
Massicotte's play is an ambitious and multilayered work that succeeds on several levels: as a character study of two remarkable men, as a treatise on war and its aftermath, and as an examination of a historical moment whose reverberations unhappily echo in our lives today. Probably the most intriguing — and successful — aspect of the play is the enigmatic character of Lawrence, who gets a full-length portrait complete with contradictions, charm, and just a touch of mad genius.
Massicotte is well served by this superior cast, securely directed by Roger Danforth. Clark-Price's Graves is the sympathetic heart of the play, while Chalfy is a consistently believable Lawrence down to every contradictory detail. Moon is a convincing wife — despite a most unconvincing wig — and Morfogen's flinty performance supplies the ballast against which the other actors can strike sparks. Played without an intermission, these 95 minutes are among the most sophisticated and absorbing currently on a New York stage.
Presented by and at Urban Stages,
259 W. 30th St., NYC.
Oct. 18-Nov. 18. Tue., 7 p.m.; Wed.-Fri., 8 p.m.; Sat., 3 and 8 p.m.; Sun., 7 p.m. (The Sun., Oct. 28, performance is at 3 p.m.)
(212) 868-4444 or www.smarttix.com.