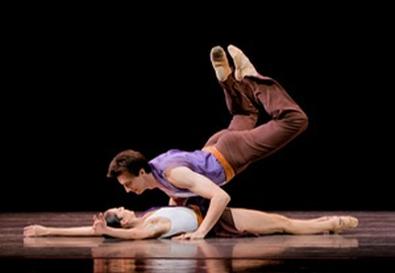 While certainly not a disappointment, the Joyce Theater debut of Pacific Northwest Ballet, one of America's finest ballet troupes (notably as interpreters of the Balanchine canon), was less enchanting than expected. The evening opened with an exhilarating New York premiere of a Twyla Tharp work, which was unfortunately followed by two misfires: a disjointed duet choreographed by Edward Liang and "Mopey," a pointless solo by German choreographer Marco Goecke that should have been titled "Dopey." Though the program closer was a worthy large-group piece by Benjamin Millepied, it didn't surpass the brilliance of the Tharp opener, nor was it provocative enough to erase the deadening impact of the intervening pieces. Perhaps Peter Boal, artistic director since 2005, was more interested in displaying the diversity of the company's repertoire than in presenting a smartly programmed evening of compelling choreography.

The Seattle-based company performs with such superb style and virtuoso technique, however, that the dancers' artistry sometimes compensated for the program's choreographic unevenness. It was the deep emotionality that principal dancer Carla Körbes brought to Liang's "Für Alina" that made us pay attention to the monotonous pas de deux. And it was out of respect for the gorgeous movement qualities of dancer James Moore that we carefully watched him tickle his armpit, shake his toes, and repeatedly caress his neck in the ridiculous Goecke piece.

It was in Millepied's "3 Movements," set to a propulsive Steve Reich score, that the dancers looked most at home. The choreographer sets forth intriguingly unrelated movement motifs: jogging, angular body shapes, dizzying multiple pirouettes, weight-sharing contact work. He piques our interest in how the material will evolve. It doesn't. It's repeated, reorganized, and reconfigured but never significantly developed. Nonetheless, the overall effect proves pleasantly invigorating.

Tharp's impressively crafted "Opus 111," set to a Brahms string quintet, sends six couples romping through complex fusions of ballet, folk, modern, and ballroom maneuvers. A whirlwind of intricate actions, in which balletic sensibilities are subsumed within larger choreographic impulses, the piece might have fared better if rendered with greater courage and less elegance.


Presented by the Joyce Theater Foundation in association with Pacific Northwest Ballet at the Joyce Theater, 175 Eighth Ave., NYC. Jan. 5–10. Tue. and Wed., 7:30 p.m.; Thu.–Sat., 8 p.m.; Sat. and Sun., 2 p.m. (212) 242-0800 or www.joyce.org.