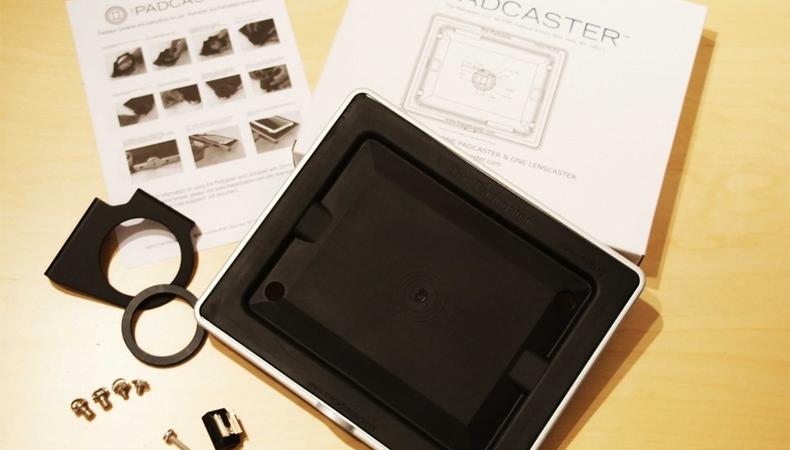 What It Is
The Padcaster
What It Does
Transforms your iPad into a video camera with all the trimmings.
Where to Buy It
http://www.thepadcaster.com
What It Costs
$149
If you own an iPad, you know how handy it can be for conducting your everyday life. You use it for studying scripts, taking notes on the run, or running apps that let you do, well, pretty much everything else. Unfortunately, the iPad is not so spectacular when it comes to pictures or video—it's just too inconvenient and, let's face it, you look silly if you stand around holding up one to your face for minutes on end. But the Padcaster ($149) may change all that by tweaking or outright fixing everything that prevents your tablet from being a top-notch video device, good enough for your professional pursuits.
An aluminum frame lined with a special urethane insert that fits snugly around your iPad, the Padcaster is equipped with a number of threaded holes (1/4-20 and 3/8-16) that let you attach a wide variety of camera accessories to improve everything about your filming. External microphones, lights, and of course a tripod can make a huge difference in your videos, and when you're using the Padcaster they're all within reach.
If you're not convinced that, even when installed in a fully loaded Padcaster, your iPad will still lack the advanced shooting zoom and depth-of-field capabilities that better lenses provide, don't be. With your Padcaster purchase, you also get the Lenscaster, a bracket with a 72mm mount that lets you attach lenses over the iPad's camera and get exactly the shot you envision. (A 72-to-58mm adapter and cold shoe adapter are also included.)
Once you've captured the raw video of your dreams, just fire up one of the many available iPad editing apps and make it look as finished as you can. Then you can upload and distribute it—and you'll never have had to leave the confines of your tablet. Interested in more traditional photography, too? Just pull out the urethane insert and use the Padcaster as a DSLR cage for hooking up everything you need to snap perfect still photos.
In some cases using the Padcaster may be the tiniest bit awkward—you probably shouldn't bother loading it up with extras if you don't have a tripod handy, and that tight-fitting urethane might make it difficult to insert and remove your tablet on a second's notice. And, even if you go to town with it, you still won't get everything you do with a real camcorder. But given its impressive feature set and nearly infinite extensibility, the Padcaster may turn your iPad into the next best thing.