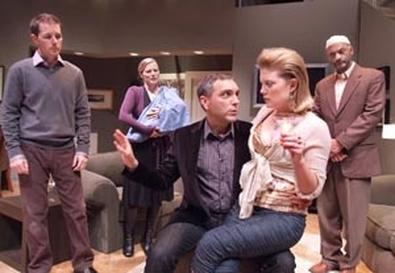 Reasonably affluent theatergoers who espouse liberal sociopolitical views might be taken aback to find themselves the key satiric target of Bruce Norris' savage dark comedy. This scathing yet screamingly funny Steppenwolf-bred play makes its West Coast debut in director Dámaso Rodriguez's galvanic production, blessed with a marvelous cast.
What initially seems like a cross between a Christopher Durang absurdist farce and an enigmatic Harold Pinter puzzler turns into a brutally realistic view of hypocrisy and bile in an ostensibly idyllic yuppie household. Set in an upscale urban home in an unspecified city, the play shifts continually between a Thanksgiving family dinner and another gathering two months later. The elephants in the room are the unexplained presence of Mr. Hadid (Kevin Vavasseur), a foreigner wearing a skullcap; the discovery of a nasty vaginal rash on precocious 4-year-old Kayla (Ava Feldman, who alternates with Olivia Aaron); and the family's bizarre fears that an avocado-munching monster is stalking their home.
Metaphors aside, the evils in this home are disturbingly palpable: rampant disrespect and resentment, thinly veiled racism, and smug intimations of superiority. Breadwinner Kelly (Vonessa Martin) and her insecure househusband, Clay (Brad Price), face off against his snide plastic-surgeon brother, Cash (Scott Lowell), and Cash's none-too-bright Russian girl toy (Katie Marie Davies). Meanwhile Clay and Cash's pseudo-intellectual mother (Jennifer Rhodes) stirs up the pot with her inflammatory rambling. The complex narrative and jumbled chronology occasionally veer toward gimmickry, yet the climactic revelations powerfully illuminate Norris' probing themes.
As the well-meaning but misguided Clay, Price gives a wonderfully textured performance, tapping into the tragicomic tension in Norris' bristling dialogue. Martin is likewise brilliant as his embittered spouse, a mercenary matriarch with a touch of Medea. Lowell is deliciously despicable as the wisecracking sibling, and Davies—sporting a pitch-perfect dialect—garners huge laughs as the clueless guest who nonetheless makes more sense than her deluded hosts. Rhodes is a hoot as the self-righteous grandma, and Vavasseur does fine work in his small but important role. Feldman, having no dialogue but screeching beautifully on cue, is highly impressive. This astutely designed and intelligently rendered production is a shared feather in the cap for two of L.A.'s most adventurous theater companies.
Presented by Furious Theatre Company and the Theatre
@
Boston Court at the Boston Court Performing Arts Center, 70 N. Mentor Ave
.,
Pasadena
.
July 25
–
Aug. 23. Thu
.–
Sat
.,
8 p
.
m
.;
Sun
.,
2 p
.
m
.
www
.
bostoncourt
.
org
.