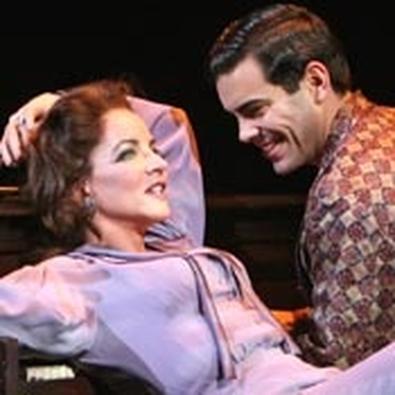 The action starts at once, during the overture, as the eponymous anti-hero is smashed to the ground by vengeful gangsters. This is a revival of Pal Joey in the style of film noir: angry, dark, cynical, acerbic, and paranoid. The iconic Richard Rodgers-Lorenz Hart-John O'Hara musical that opened Dec. 25, 1940, was a groundbreaker in its depiction of a conniving though charming hoofer who'd sell anything, especially himself, to get ahead. Now, 68 years later, furnished with a tough new book by Richard Greenberg, directed by Joe Mantello as if it were Chicago, and tentatively choreographed by Graciela Daniele, Pal Joey is back in a production that, although it can't quite make up its mind what it wants to be and is too remote to be engaging, still manages to find the brash undertones of a fabled, always troubled creation. And, oh, that witty, melodic, still-fresh score!
The show's original 374-performance run was exceeded by the 1952 revival's 542 performances. But even though Pal Joey seemed daring, it was in many ways a conventional love triangle interlaced with typical nightclub acts. Roundabout's modernization, with hints of the self-mocking Cabaret and Follies, goes for integrating not just character songs like "Bewitched, Bothered, and Bewildered" and "In Our Little Den of Iniquity" but also club sequences. Thus, in "Happy Hunting Horn," Joey's song about searching for "mice" and "quail," chorus girls mourning his possible absence are bedecked in black dresses, hats, and veils. That works.
But cutting the role of reporter Melba Snyder and giving her song "Zip" to entertainer Gladys Bumps, while doing no overt harm to the plot, makes the song into a performance number rather than a character piece, killing the lyric's meaning. The fact that it's oversold by an otherwise powerful Martha Plimpton doesn't help. The other musical changes are adding "I Still Believe in You" from the 1930 Broadway show Simple Simon and "Are You My Love" from the 1936 film Dancing Pirate — both used to beef up Joey's relationship with Linda English, the naïve young woman he makes a move on before meeting his meal ticket in socialite Vera Simpson — and reinstating Joey's climactic "I'm Talkin' to My Pal," dropped from the show's original Broadway production but reinstated at both Goodspeed and Encores! in the 1990s.
That last song ("I can't be sure of girls/I'm not at home with men/I'm ending up with me again") is meant as an empathetic lament, a palliative for a character who's an amalgam of passion, greed, heartlessness, and sexual magnetism. Matthew Risch, who as everyone knows by now jumped from understudy to lead, has the surface right. But his singing and dancing, while efficient, lack that extra dimension that should dominate the evening, and he has not (as yet) dug down to the complexities of a hotshot heel who doesn't know how to assuage his loneliness.
The wonderful Stockard Channing makes moneyed matron Vera into a cold, calculating, unflappable snob. Channing may not sing to beat the band, but she spins out her numbers with great élan, supported by Don Sebesky's smart orchestrations and Paul Gemignani's musical direction. Robert Clohessy finds all sorts of layers in Mike, the conflicted club manager, while Jenny Fellner is appealing as the sweet-natured yet feisty Linda, who almost reforms Joey.
This Pal Joey clarifies O'Hara's unwieldy book, especially in Act 2. Scott Pask's cavernous set, with its looming train trestle; Paul Gallo's knife-edged lighting; and William Ivey Long's costumes contrast yet connect the dark nightclub and its unsavory denizens with the bright upper world of the useless wealthy. Astutely, slyly, director Mantello intimates that, in a mendacious world, money and selfishness know no boundaries.
Presented by Roundabout Theatre Company in association with Marc Platt at Studio 54, 254 W. 54th St., NYC. Dec. 18-Mar. 1. Tue.-Sat., 8 p.m.; Wed., Sat., and Sun., 2 p.m. (Additional performances Mon., Dec. 22, 8 p.m.; Fri., Dec. 26, 2 p.m.; Sun., Dec. 28, 7:30 p.m.; no performances Wed., Dec. 24, and Thu., Dec. 25; evening performances Wed., Dec. 31, and Thu., Jan. 1, 7 p.m.) (212) 719-1300 or www.roundabouttheatre.org. Casting by Jim Carnahan and Bernard Telsey Casting.