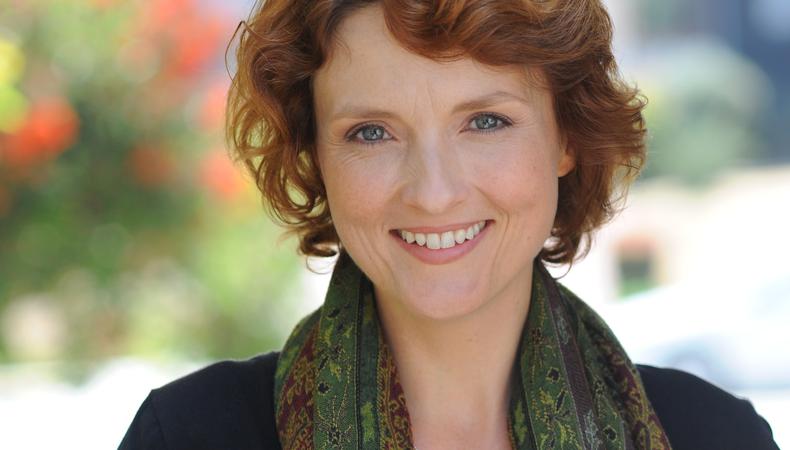 Much like many industry professionals, Pamela Vanderway first wanted to be an actor, but over the course of her training, a new passion surfaced. "I loved the process of acting, I love what actors do, I like the material they work with, and I had keen interest in dialect," she recalls.
But upon realizing she wanted to be a dialect coach, she also realized it wasn't going to be easy—especially considering her school (CalArts) didn't have a dialect program.
"I said, 'Well, wait a minute. I'm not qualified to do this. What should I do?' And so I began to think about that and I went to my college and I asked them if they would consider creating a master's degree program focusing on training voice and speech for performance, and they agreed," recalls the now expert in her field.
Vanderway went on to create her own program focusing in speech study for actors, followed by teaching a master's program for one semester at the University of North Carolina at Chapel hill where she met and began working with high-profile actors.
Today, the L.A.-based Vanderway coaches privately and operates DialectCoaches.com, the service she founded to solve a major problem in her field. "We vet dialect coaches for production houses. So before the existence of my company there wasn't really a way of knowing the dialect coach you wanted to hire, what their background was, [etc.]. There wasn't a single unbiased adjudication," she explains.
Vanderway chats with Backstage about her philosophies as a dialect coach, what they really do, and what everyone needs to understand about her profession.
On what dialect coaches do.
"A dialect coach assists an actor or a non-actor to sound like another person—as if they're from another place than they actually are from," she says, "and that has to do with altering speech patterns, but in some instances it also requires assisting in body language as well."
On the most important thing she tries to teach her students.
"I teach my students that the most important thing is to learn an accent all the way to a point of complete integration—to that place where not only is the accent mastered, but it's not in the way of the actors performance. Because in the performance, there's no room for the actor to be wondering, Did I say that right?" Vanderway explains.
"Dialect is a layer of storytelling and so it's like every other layer. If your rhythm, speech, movement, facial expressions—if all of those are in line with the story being told, the audience is with you 100 percent; if any one of those is off-kilter, the audience is pulled out of the action and either doubts the validity of the story or doubts your ability as an actor."
On thinking dialect coaches can speak dozens of languages.
Noting that she herself only speaks "restaurant French, restaurant German, and living-in-Mexico-City-for-a-year Spanish," Vanderway says it's important to realize dialect coaches don't speak every language they may teach.
"Sometimes people think that dialect coaches speak dozens and dozens of languages and the truth is that is tangential to our job; dialect coaches who work in English speaking countries, we do tend to investigate languages just to the point where we understand the construction of those languages so we can assist an actor in improvising—should they need to improv mistakes that a certain speaker of that language might make—and certainly to understand the individual sounds involved," she says.
"Dialect coaches are not language teachers; we are accent teachers."
On the danger of relying too heavily on a dialect coach.
"[Many people think] dialect coaches can sort of magically help you get the dialect, but the work is really in the actor's hands. So it's not as if the dialect coach can by magic endue you with the ability to learn an accent. All we do is help you break down the project and keep you on course," she explains.
"Unless the client is already almost all the way there, a session or two is not going to get them there. So a big misconception is that a dialect coach can quickly help you master and integrate a dialect for performance, when it's actually a long process."
On her advice for actors regarding dialect.
Most importantly, actors shouldn't try to learn just any dialect. Keeping authenticity in mind, Vanderway says, "Learn how to learn accents; learn to be a very flexible actor—look at your own career and know for yourself which accents you are most likely, as a specific actor, to be asked to audition in and prepare for those whole-heartedly."
For more information, visit DialectCoaches.com and follow Vanderway on Twitter, @Dialect411.
Inspired by this post? Check out our audition listings!