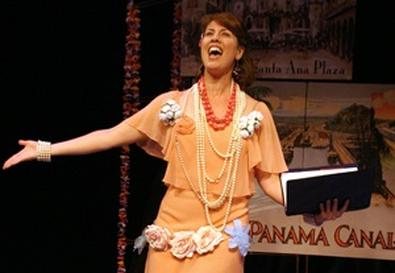 The 1940 musical "Panama Hattie" may be set in tropical climes, but there's little spice to be found in Thomas Sabella-Mills' colorless production, presented by Musicals Tonight! While there are sporadic laughs to be had in B.G. DeSylva and Herbert Fields' book, and Cole Porter's songs are always a treat, this script-in-hand staging of a true rarity proves to be a wearisome experience.

Originally written as a vehicle for Ethel Merman, the show is about brassy nightclub singer Hattie, who's engaged to Nick, who works in the control house on the Panama Canal. Nick's precious little girl Jerry has just arrived, and Hattie needs to gain the tot's approval if the nuptials are to proceed. Sadly, it's dislike at first sight. The animosity between the diva and the tyke, combined with the schemes of society doyenne Leila—who wants Nick for herself—puts the brakes on Hattie and Nick's trip to the altar.

Sabella-Mills' staging lurches from moment to moment, emphasizing the skitlike quality of many of the scenes, and he has elicited only workmanlike performances from a majority of the ensemble. Julie Cardia certainly has the vocal gusto to belt out songs written for the Merm, but she strains when bringing the character's comedic sassiness to life. As a trio of hapless Navy guys who stumble on a plot to blow up the canal, Antonio Addeo, John Bambery, and Christian Marriner provide wan re-creations of Runyanesque New Yawkers. Similarly, Victoria Huston-Elem delivers unevenly as the conniving Leila.

Better work comes from the consistently charming Paul Anthony Stewart and Madeleine Rose Yen, as father and daughter, and Lara Seibert, who plays Florrie, Hattie's saucy best friend, who gets her hooks into Jerry's staid butler/chaperone (Jackson R. Best). She delivers a show-stealing performance that's filled with giddy panache and decided flair.



Presented by Musicals Tonight! at the McGinn/Cazale Theatre, 2162 Broadway, NYC. Oct. 12-24. Tue.-Sat., 7:30 p.m.; Wed., 2 p.m.; Fri., noon. (212) 579 4230 or www.iseats.com. Casting by Stephen DeAngelis.