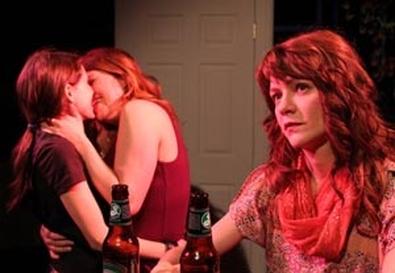 Is Susan Louise O'Connor capable of a bad performance? Her streak of expertly etched, authentically felt characters continues with her role in Kari Bentley-Quinn's delicate bruise of a play, "Paper Cranes," a roundelay of sexual and emotional miscommunication and missed opportunities.
O'Connor is the sexually adventurous Amy, who embarks on a largely silent sadomasochistic relationship with David (Eric T. Miller), who is still mourning the loss of his girlfriend with help from a grief counseling group, where he befriends widow Mona (Cynthia Silver). Mona has been so unmoored by the loss of her husband that she neglects to realize that her daughter Maddie (Sarah Lord) is a lesbian, one who disguises her vulnerabilities beneath a veneer of sexual aggression that captivates Amy's best friend, Julie (Melissa Hammans).
Bentley-Quinn reveals a predilection for exploring the ways in which people refuse to mature, instead merely applying the props and tough talk of adulthood to their adolescent feelings. The older Julie wants to wait until Maddie grows up a little before pursuing a relationship with her, to which Amy drunkenly sniffs, "Look at us. Are we grownups?"
Director Scott Ebersold brings the wry humor of Bentley-Quinn's characters to the forefront, ensuring that this sexually fearless show never falls into the trap of sensationalism. O'Connor's performance feels like a Mary Gaitskill character sprung to life, one who is confident in her sexual needs and, though she is sometimes frightened by them, insists on following where they take her. Silver and Hammans contribute fine work as women who worry that they might be alone for good. Lord brings her character's defiant attitude to vivid life. Miller, as the sole man, manages to convey both menace and emotionally debilitating grief.
The title comes from the Japanese belief that crafting 1,000 origami cranes will make a person's wish come true. For the characters, creating intricate creatures out of paper can't ease their pain. For audiences that delight in downtown theater, "Paper Cranes" is a wish come true.
Presented by Packawallop Productions at Access Theater, 380 Broadway, NYC. April 17–May 8. Schedule varies. (212) 352-3101, (866) 811-4111, www.theatermania.com, or www.packawallop.org. Casting by Judy Bowman Casting.