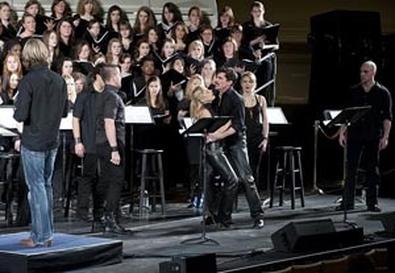 The music is strong—an appealing span between operatic and pop-musical—and it will find a relatively broad audience. The story, however, will probably appeal mostly to disenfranchised youth and older persons longing to be disenfranchised youth. In that story, a group of young angels, whose wings were hidden from them by the adults, survive in a fortress through martial training and the recreational drinking of "amber." As with any captive group, one person leads, another is his lieutenant, and still another dreams of escaping. And as with so many musicals, the characters are either beautiful or comedic, and here they're unencumbered by the presence in their ranks of anyone who is middle-aged, elderly, or infirm.
Whether Eric Whitacre's score (book by Edward Esch) would work as well without his lead soprano is another guess. Hila Plitmann sings like an angel, looks like an angel, and acts more than well enough to suit the bill. She played Extasis, a delicate dreamer strong enough to break free of physical and emotional constraints. Her voice is a stunning instrument, silvery yet resonant, with a full emotional range. She was paired here with Damon Kirsche as the angels' leader, Logos. Kirsche brought ample shades to Logos, part iron fist and part watchful guardian. Doug Kreeger gave Logos' henchman a respectfully serious mien; Daniel Tatar and Marie Wallace ably took on the comic relief; and Sara Jean Ford essayed pal and mother with equal care. But one more memorable voice was on display here: that of bass-baritone Rodolfo Nieto, an heir presumptive to the great line of singers relegated to playing evildoers.
Taiko drums helped give fervor to the score, a cello gave it tenderness. Under Whitacre's conducting, the instruments served the singers rather than overwhelming their voices. Plitmann was matched with a cello and a light touch of sticks on cymbals—when those cymbals were not being bowed.
In the main, what this semi-staged version lacked from its 2007 full production at The Theatre @ Boston Court was the visuals: the set, lighting, and anime. On the other hand, the Disney Concert Hall performance left more room for the audience's imagination to flourish. And this time Whitacre added a 300-voice chorus, who completely filled the back wall of the hall, giving mob scenes ferocity. The choristers' passion matched that of the performers: In addition to the chorus's lightly choreographed movements, the occasional fist spontaneously pumped amid the drama of the moment. And at the story's end, each chorus member's hands created a butterfly primed for flight—a striking visual that augmented the bursting music.
The evening was gallantly narrated by co-creator and director David Noroña.
Presented by Distinguished Concerts International New York at Walt Disney Concert Hall, 111 S. Grand Ave., L.A., 8 p.m., June 25, one night only.