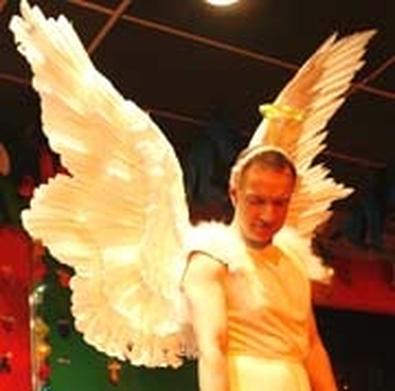 Metaphors and symbols and allusions, oh my! In the world of Charles Mee's Paradise Park, you might find what's in the Emerald City besides the wizard of Oz. Or what's at the bottom of the rabbit hole into which Alice descends.
As the play opens, Benny (William Jackson Harper) enters from the audience and literally climbs on stage. He walks past a bumper car and other amusement-park accouterments to a window. A hand reaches through venetian blind slats; banter ensues with the hidden figure behind the hand. Blinds rise, and all around we see those people ostensibly living in this mystifying funhouse, this roller coaster of a netherworld.
A door beside the window opens, and Benny meets the curious crew. Jorge (Paul Mullins) collects Benny's fee. Ella (Laurie Williams) is a porcelain-faced greeter who is lithe on Rollerblades and standoffish. Morton (Christopher McCann), Nancy (Veanne Cox), and daughter Darling (Vanessa Aspillaga) have a secret: There's another daughter off in an insane asylum. Later on, Edgar (Alan Semok) lifts Mortimer, a wisecracking dummy, from a trash can — a clear allusion to Edgar Bergen and Mortimer Snerd, though to what end I don't know. And there's Vikram (Satya Bhabha), the tour leader, in a decidedly un-Disney mouse outfit (fine costume work by Kaye Voyce).
But there's not much of a tour: Joshua Thorson's video designs offer us woods here, a beach there, and other images in a gauzy light. Still, director Daniel Fish stages Mee's disconnected vignettes with the fluidity of a trapeze artist. When such phrases as "Cotton Candy," "The Roller Coaster," "Balloon Head," and "Summer Evening" are projected onto the back wall, the bits of business accompanying them are absurdly wonderful, such as when Nancy sprays a garden hose at Morton, who is clad in a helmet shaped like a clown head, or when she fires a pistol at him, perhaps intentionally missing.
Musical numbers in Mee plays rarely explain anything, but they're joyous. Peter Pucci's choreography to Mary J. Blige's cover of "Real Love" is rhapsodizing. And disorienting as they may be, Mee's monologues exert strong powers. The ever-gifted Cox, babbling on about her character's psychotic child as Darling stands in a photo booth with each flash sounding keenly like a guillotine blade, is bizarrely moving.
Characters place fruitcakes in a slingshot and hurl them across the stage; hundreds of Superman dolls explode from a trap ceiling; there's a square dance. A huge blow-up playground inflates halfway; Jorge makes Darling an omelet on a chafing dish that becomes a flower bouquet; a long video at the end shows half of Darling's and Morton's grim faces in a rearview mirror — these inexplicable images are, if nothing else, provocative and often terrifically funny. David Zinn's set design ingeniously permits this to occur as the stage fills with props and pieces, like a gumball machine all ready to explode.
While Mee characteristically stints on narrative, he does drop hints: Benny and Ella playing touch and go with their mutual attraction; Vikram falling for Mortimer and dancing with him, even with Edgar's hand lodged in the dummy's back. And, at the play's midpoint, a bone-chilling scene: Bob (Gian Murray Gianino), a doe-eyed pizza man, delivers a long monologue about murder.
One is never sure whether the actors fully follow Mee's map of Paradise Park — the play is as darkly comic as Beckett is comically dark. But you've got to laud them for surrendering at times to an almost childlike state of play. Especially as they, at other times, must venture into the harsh corners of the mind to which the playwright takes them.
Presented by Signature Theatre Company in association with True Love Productions
at Signature Theatre Company, 555 W. 42nd St., NYC.
March 2-April 6. Tue., 7 p.m.; Wed.-Sat., 8 p.m.; Sat. and Sun., 2 p.m.
(212) 224-7529 or www.signaturetheatre.org.
Casting by Telsey + Company.