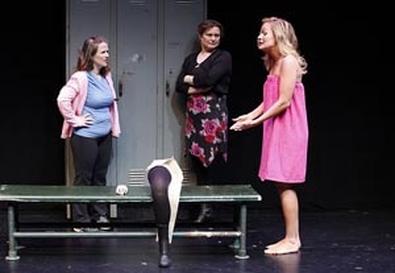 "I'm like a racist but with disabled people!" a wheelchair-bound Walmart greeter exclaims, mocking customers who instinctually become uncomfortable due to her sedentary condition. This line from "Welcome to Wal*mart," by Samuel D. Hunter, is humorous while also putting the audience in a difficult position—to laugh or not? Everyone has confronted the awkwardness of not knowing how to react to someone's differences, ability-related or not. This fine line flows through "Some of Our Parts," a series of seven 10-minute plays that tackles universal issues from a disability perspective. There are also short "casting calls" punctuating the program, but these interludes—in which Theater Breaking Through Barriers company members request auditions for roles like Annie Sullivan in "The Miracle Worker" or Laura in "The Glass Menagerie"—feel too didactic. The plays speak loud enough for themselves.
The seven works cover topics including introducing a boyfriend to your family, aging parents, female body issues, online dating, sex, and disability discrimination. Each play is tightly written and meticulously directed, and the themes are relatable to all. Disabled or not, people use fake pictures in their online profiles and worry that their mothers will be overly critical of their new romantic partners.
The highlight is Bekah Brunstetter's "Gorgeous," a locker-room scene in which two amputees are dishing about their body-image issues after yoga class when a "perfect" woman interrupts their conversation. The two women covet this gym rat's beauty and pity themselves, until they realize that everyone has his or her own issues. Brunstetter's dialogue is simultaneously comic and touching: "It's just what girls do. We go around wishing we were each other. It's exhausting." The talented actors, particularly Mary Theresa Archbold, as Ginger "Body Issues," and Anita Hollander, as Rose "Baby Weight," fill Brunstetter's lines with the biting wit and emotion they demand. A limb is merely an accessory, and beauty comes from the inside.
Neil LaBute's "Cripples" reeks of the playwright's trademark misogynism, but his tone is more endearing than usual. Sitting on an unremarkable park bench, three elderly gentlemen are trading sexual encounters when one man reveals that he did the deed with a legless woman, to the shock of his friends. It's predictable that LaBute would address the sex issue, but the sympathetic nature of his three characters surprises, and he creates a moving piece while maintaining his own voice.
From cerebral palsy to blindness, the disabilities portrayed run the gamut. However, the company notably breaks its unspoken rule by having able-bodied performers portray some of the disabled characters. There is a note in the program calling out shows like "Glee" for having an able-bodied actor in a wheelchair role, but "Glee" also has an actor with Down syndrome playing a character with the same condition, so it goes both ways.
The evening flew by, and Lady Gaga's triumphant anthem "Born this Way" played me out of the theater with a lot to think about. It's too bad that TBTB's agenda sometimes got in the way of enjoying the show. While I sympathize with their purpose, the only thing I remember about the "casting calls" is that they use Back Stage for casting notices.
Presented by Theater Breaking Through Barriers at the Clurman Theatre, 410 W. 42nd St., NYC. June 22–30. Tue.–Thu., 7 p.m.; Fri. and Sat., 8 p.m.; Sat. and Sun., 3 p.m. (212) 239-6200, (800) 432-7250, or www.telecharge.com.