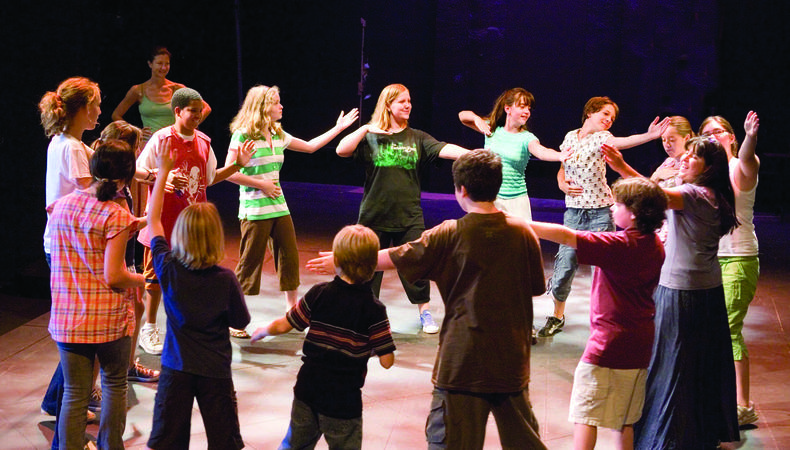 Young actors in Southern California have the chance to spend a few weeks with Shakespeare this summer.
A Noise Within, the area's only year-round classical repertory company, will be holding its annual Summer With Shakespeare, a three-week summer camp for actors ages 10–18, at its theater in Pasadena.
Being accepted into the program is akin to being cast in a small Shakespeare festival, according to organizers.
"We try to give them an overview of production and things like that, but it's primarily focused on the performance of Shakespeare," said Julia Rodriguez-Elliott, ANW's producing artistic director along with Geoff Elliott.
The three weeks aren't all about donning corsets and mastering Elizabethan diction, however. The students also learn sword fighting and stage combat.
Rodriguez-Elliott has been leading ANW's educational effort for almost two decades. In that time some of her students have gone to college and returned to star in professional productions at ANW; among them are Rafael Goldstein, who just won the LA Weekly Theater Award for leading male performance for "Hamlet" at Zombie Joe's Underground, and James Ferrero.
In the Bard's day, boys were often cast in a play's female roles, but that's not a common practice in modern theater. In fact, Rodriguez-Elliott cautions that the students' summer training won't lead directly to stage work with Shakespearean productions, in part because there just aren't that many roles for children.
"For a lot of these students, it's more of an in-depth introduction into what it means to work with this kind of material," she said. "It really is as rigorous as any conservatory program that you would be in."
The classes, which are conducted on weekdays from 10 a.m. to 4 p.m., are taught by professional actors. This summer's instructors include resident artists Stephen Rockwell and Ken Merckx, as well as Lenne Klingaman and Justin Eick. "The entire faculty is made up of people who are out there and are doing it, so [students] have the added benefit of that shared experience," Rodriguez-Elliott said. "They develop the passion for Shakespeare."
The three weeks end with a two-hour public presentation of monologues and scenes from the Bard's work on July 13.
The cost of the program, which runs from June 24 to July 13 at ANW's 33,000-square-foot Pasadena venue, is $825. More information can be found at ANW's website, www.anoisewithin.org.