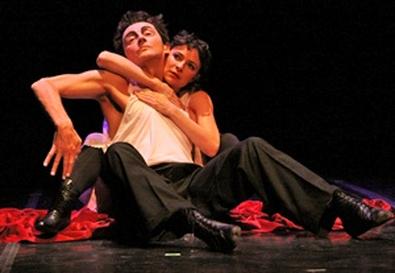 The key events in Viennese painter Egon Schiele's short life may easily fit on a cue card, but it seems that his work's aesthetic and detached eroticism can be endlessly expounded upon without ever saying a word. Known for his gnarled, twisty figure work and some pornography charges, the early-20th-century expressionist is the subject of John Kelly's acclaimed "Pass the Blutwurst, Bitte," which returns to La MaMa after 15 years. Though I am unfamiliar with previous incarnations of this largely silent dance piece, which premiered in 1986, it is safe to say that Kelly's sharp, contorted choreography still cuts like a knife, aloofly expressing Schiele's life and work in his own crooked milieu.
Indeed, Kelly economically uses cue cards straight away to dispense the essential facts: Schiele was born, became a painter, met and seduced a young girl named Wally, went to prison for exposing minors to his "pornographic" artwork, married a woman named Edith after his release (much to Wally's chagrin), and finally died with Edith in an influenza outbreak at the age of 28. This dry exposition covers the basics, leaving Kelly, who directs, choreographs, and plays Schiele, free to visit these events obliquely through modern dance, silent movie–style videos by Anthony Chase, and a little too much smoke-machine fog. Scored by a catalogue of classical music, many of Kelly's severe, potently executed gestures are lifted directly from Schiele's countless self-portraits, right down to the Vulcanesque finger positions.
As the much younger Wally, Tymberly Canale excels in an extended tango with Kelly and joins him for a cutout recreation of Schiele's painting "Death and the Maiden," which represents the end of Wally and Schiele's relationship. Schiele's wife, Edith, played boldly by MacKenzie Meehan, lets a bag of oranges drop and roll away in her stunning death scene. Eric Jackson Bradley and Luke Murphy play "Alter Egon" doppelgangers, allowing Kelly to execute his akimbo maneuvers in triplicate or wrestle feverishly with himself before sending Wally a shameless extramarital letter.
Presented by and at La MaMa ETC, 74 E. Fourth St., NYC. Dec. 5–19. Thu.–Sat., 7:30 p.m.; Sun., 2:30 p.m. (212) 352-3101, (866) 811-4111, www.theatermania.com, or www.lamama.org.